How do you deliver efficiency, control costs and support business Growth, while anticipating and reacting to new data dissemination services?
ZagTrader works with global leading edge market and company data providers, and has over the years consolidated a database of World Wide companies and market data. Through our own and/or our partners, we can deliver data feeds in any shape or method that would suit your requirements to empower your back office systems.
The SOLUTION
Connect with Multiple Data Sources and Redistribute them through ONE Channel.

Normalize data in a unified standard data structure.

Publish your own APIs.

Upgrade your existing system easily with no hassle.

Avoid the re-certification processes with any third-party platforms.

Supports UDP and TCP connections.

Ready-made SDK is available to be provided to consumers – which will speed up the development.

Capable of changing the data on the fly before it is sent to consumers.

ZagTrader MDF Readers aggregate the Level 2 order book(s) of exchanges into a real-time live data structure.

Multi market, multi asset class and multi-currency system.

Feed consumers can subscribe to a certain set of symbols within a market, or a combination of markets.

Compressed data format.

Ultra-light weight multi-threaded architecture.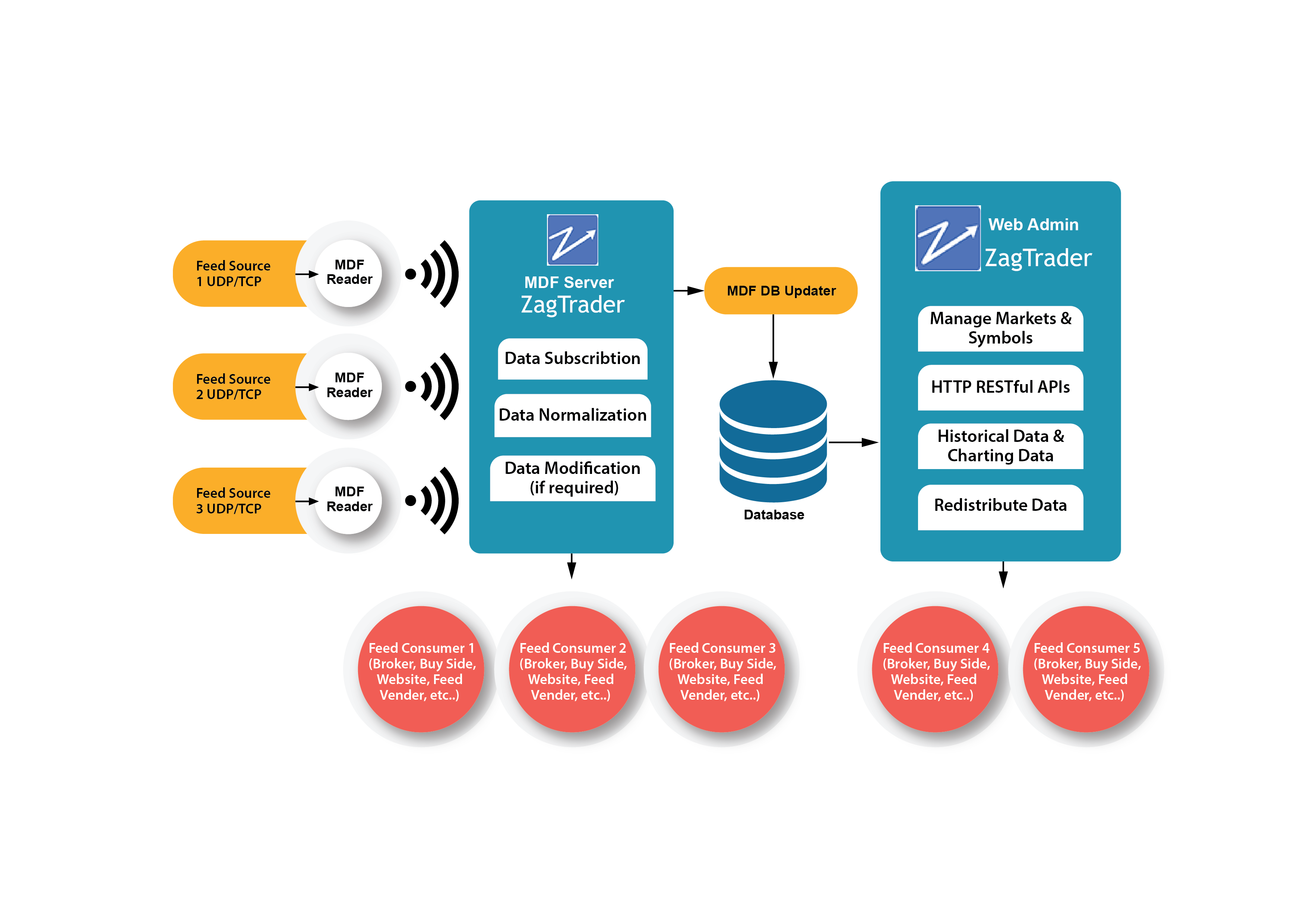 GO BEYOND THE BASIC
Empower the database with snapshots of the data feed to be used for other applications.

Historical data retention and aggregation.

Advanced web administration to manage the markets, symbols and corporate actions.

Web based APIs that supports running http RESTful APIs.

Relational Database storage – CREATE Custom procedures and enhance the experience further.
Go Global
Multi market, multi asset class and multi-currency system, publish your own API's, maintain your independence by having the freedom to upgrade and update and increase your footprint of the exchange or financial institution.
Cost Effectiveness
Avoid recertification with any 3rd party platforms and upgrade your existing system without any hassle, making it easy and fast to deploy and eliminating the cost and maintenance burdens of a traditional implementation.
High Availability
The ZagTrader Feed Aggregator will act as a real-time re-transmission layer that will connect with different Feed sources and protocols from one end, normalize the data in a standard data structure and send it to the feed consumers such as Execution Management Systems, Order Management Systems, other Service Providers, etc. from the other end. This will maintain a standard data feed format for the consumers, and will allow any transparent upgrades to the exiting environment.
Countries / Exchange Coverage
The World-wide End of Day Pricing system displays the Country and Exchange where the security is listed in a 6 letter Exchange code. This code is made up by the 2 letter Country code and four letters from the Exchange name. The table below displays all the Country/Exchange names and codes.
| CntryCD | Country | Exchange | MIC |
| --- | --- | --- | --- |
| DZ | Algeria | Algiers Stock Exchange | XALG |
| AR | Argentina | Buenos Aires Stock Exchange | XBUE |
| AU | Australia | National Stock Exchange of Australia | XNEC |
| AU | Australia | Australian Securities Exchange | XASX |
| AT | Austria | Vienna Stock Exchange | XWBO |
| AZ | Azerbaijan | Baku Stock Exchange | BSEX |
| AZ | Azerbaijan | BAKU INTERBANK CURRENCY EXCHANGE | XIBE |
| BS | Bahamas | Bahamas International Securities Exchange | XBAA |
| BH | Bahrain | Bahrain Stock Exchange | XBAH |
| BD | Bangladesh | Dhaka Stock Exchange | XDHA |
| BD | Bangladesh | Chittagong Stock Exchange | XCHG |
| BB | Barbados | Barbados Stock Exchange | XBAB |
| BE | Belgium | NYSE Euronext Brussels | XBRU |
| BM | Bermuda | Bermuda Stock Exchange | XBDA |
| BO | Bolivia | Bolivian Stock Exchange | XBOL |
| BA | Bosnia and Herzegovina | Banja Luka Stock Exchange | XBLB |
| BW | Botswana | Botswana Stock Exchange | XBOT |
| BR | Brazil | BM&F Bovespa - Securities, Commodities and Futures Exchange | BVMF |
| BG | Bulgaria | Bulgarian Stock Exchange - Sofia | XBUL |
| KH | Cambodia | Cambodia Securities Exchange | XCSX |
| CM | Cameroon | Douala Stock Exchange | XDSX |
| CA | Canada | Canadian National Stock Exchange | XCNQ |
| CA | Canada | TSX Venture Exchange | XTSX |
| CA | Canada | Toronto Stock Exchange | XTSE |
| CV | Cape Verde | Cape Verde Stock Exchange | XBVC |
| GG | Channel Islands | Channel Islands Securities Exchange | XCIE |
| KY | Cayman Islands | Cayman Islands Stock Exchange | XCAY |
| CL | Chile | Santiago Stock Exchange | XSGO |
| CL | Chile | Chilean Electronic Exchange | XBCL |
| CN | China | Shenzhen Stock Exchange | XSHE |
| CN | China | Shanghai Stock Exchange | XSHG |
| CO | Colombia | Colombian Stock Exchange | XBOG |
| CR | Costa Rica | National Stock Exchange (Costa Rica) | XBNV |
| HR | Croatia | Zagreb Stock Exchange | XZAG |
| CY | Cyprus | Cyprus Stock Exchange | XCYS |
| CZ | Czech Republic | Prague Stock Exchange | XPRA |
| DK | Denmark | Nasdaq OMX Nordic Copenhagen | XCSE |
| DO | Dominican Republic | Dominican Republic Stock Exchange | XBVR |
| EC | Ecuador | Guayaquil Stock Exchange | XGUA |
| EC | Ecuador | Quito Stock Exchange | XQUI |
| EG | Egypt | Egyptian Exchange | XCAI |
| SV | El Salvador | El Salvador Stock Exchange | XSVA |
| EE | Estonia | Nasdaq OMX Baltic Tallinn | XTAL |
| EU | Europe | BATS Europe | BATE |
| FJ | Fiji | South Pacific Stock Exchange | XSPS |
| FI | Finland | Nasdaq OMX Nordic Helsinki | XHEL |
| FI | Finland | FIVESL | |
| FR | France | NYSE Euronext Paris | XPAR |
| DE | Germany | Berlin-Bremen Stock Exchange | XBER |
| DE | Germany | XETRA Frankfurt | XETR |
| DE | Germany | Stuttgart Stock Exchange | XSTU |
| DE | Germany | Hanover Stock Exchange | XHAN |
| DE | Germany | Munich Stock Exchange | XMUN |
| DE | Germany | Hamburg Stock Exchange | XHAM |
| DE | Germany | Frankfurt Stock Exchange | XFRA |
| DE | Germany | Dusseldorf Stock Exchange | XDUS |
| GH | Ghana | Ghana Stock Exchange | XGHA |
| GR | Greece | Athens Exchange | ASEX |
| GT | Guatemala | National Stock Exchange (Guatemala) | XGTG |
| HK | Hong Kong | Hong Kong Stock Exchange | XHKG |
| HU | Hungary | Budapest Stock Exchange | XBUD |
| IS | Iceland | Nasdaq OMX Nordic Iceland | XICE |
| IN | India | National Stock Exchange of India | XNSE |
| IN | India | Bombay Stock Exchange | XBOM |
| ID | Indonesia | Indonesian Stock Exchange | XIDX |
| IR | Iran | Tehran Stock Exchange | XTEH |
| IQ | Iraq | Iraq Stock Exchange | XIQS |
| IE | Ireland | Irish Stock Exchange | XDUB |
| IL | Israel | Tel-Aviv Stock Exchange | XTAE |
| IT | Italy | Mercato Alternativo | MACX |
| IT | Italy | Italian Exchange | MTAA |
| CI | Ivory Coast | Regional Stock Exchange of West Africa | XBRV |
| JM | Jamaica | Jamaica Stock Exchange | XJAM |
| JP | Japan | Osaka Securities Exchange | XOSE |
| JP | Japan | Nagoya Stock Exchange | XNGO |
| JP | Japan | Jasdaq Securities Exchange | XJAS |
| JP | Japan | Tokyo Stock Exchange | XTKS |
| JO | Jordan | Amman Stock Exchange | XAMM |
| KZ | Kazakhstan | Kazakhstan Stock Exchange | XKAZ |
| KE | Kenya | Nairobi Stock Exchange | XNAI |
| KR | Korea (South) | KOSDAQ | XKOS |
| KR | Korea (South) | Korea Stock Exchange | XKRX |
| KW | Kuwait | Kuwait Stock Exchange | XKUW |
| KG | Kyrgyz Republic | Kyrgyz Stock Exchange | XKSE |
| LA | Laos | Lao Securities Exchange | XLAO |
| LV | Latvia | Nasdaq OMX Baltic Riga | XRIS |
| LB | Lebanon | Beirut Stock Exchange | XBEY |
| LT | Lithuania | Nasdaq OMX Baltic Vilnius | XLIT |
| LU | Luxembourg | Luxembourg Stock Exchange | XLUX |
| MK | Macedonia | Macedonian Stock Exchange | XMAE |
| MW | Malawi | Malawi Stock Exchange | XMSW |
| MY | Malaysia | Malaysian Exchange | XKLS |
| MT | Malta | Malta Stock Exchange | XMAL |
| MU | Mauritius | Stock Exchange of Mauritius | XMAU |
| MX | Mexico | Mexican Stock Exchange | XMEX |
| MN | Mongolia | Mongolian Stock Exchange | XULA |
| MA | Morocco | Casablanca Stock Exchange | XCAS |
| NA | Namibia | Namibian Stock Exchange | XNAM |
| NP | Nepal | Nepal Stock Exchange | XNEP |
| NL | Netherlands | NYSE Euronext Amsterdam | XAMS |
| NZ | New Zealand | NZX | XNZE |
| NG | Nigeria | Nigerian Stock Exchange | XNSA |
| NO | Norway | Oslo Axess | XOAS |
| NO | Norway | Oslo Bors Alternative Bond Market | XOAM |
| NO | Norway | Oslo Bors | XOSL |
| NO | Norway | Norwegian over the counter market | NOTC |
| OM | Oman | Muscat Securities Market | XMUS |
| PK | Pakistan | Karachi Stock Exchange | XKAR |
| PS | Palestine | Palestine Securities Exchange | XPAE |
| PA | Panama | Panama Stock Exchange | XPTY |
| PY | Paraguay | Asuncion Stock Exchange | XVPA |
| PE | Peru | Lima Stock Exchange | XLIM |
| PH | Philippines | Philippine Stock Exchange | XPHS |
| PL | Poland | Warsaw Stock Exchange | XWAR |
| PT | Portugal | NYSE Euronext Lisbon | XLIS |
| QA | Qatar | Qatar Exchange | DSMD |
| RO | Romania | Bucharest Stock Exchange | XBSE |
| RU | Russia | Russian Trading System | RTSX |
| RU | Russia | Moscow Interbank Currency Exchange | MISX |
| RW | Rwanda | Rwanda Stock Exchange | RSEX |
| SA | Saudi Arabia | Saudi Stock Exchange | XSAU |
| RS | Serbia | Belgrade Stock Exchange | XBEL |
| SG | Singapore | Singapore Exchange | XSES |
| SK | Slovak Republic | Bratislava Stock Exchange | XBRA |
| SI | Slovenia | Ljubljana Stock Exchange | XLJU |
| ZA | South Africa | JSE Securities Exchange | XJSE |
| ES | Spain | Bilbao Stock Exchange | XBIL |
| ES | Spain | AIAF - Fixed Income Market | XDRF |
| ES | Spain | Barcelona Stock Exchange | XBAR |
| ES | Spain | Sistema Espanol De Negociacion De Activos Financie | XNAF |
| ES | Spain | Madrid Stock Exchange | XMAD |
| ES | Spain | Spanish Stock Exchange Interconnection System | XMCE |
| ES | Spain | Mercado Alternativo Bursatil | MABX |
| ES | Spain | Valencia Stock Exchange | XVAL |
| LK | Sri Lanka | Colombo Stock Exchange | XCOL |
| KN | St. Kitts & Nevis | East caribbean Stock Exchange | XECS |
| SD | Sudan | Khartoum Stock Exchange | XKHA |
| SZ | Swaziland | Swaziland Stock Exchange | XSWA |
| SE | Sweden | Nasdaq OMX Nordic Stockholm | XSTO |
| SE | Sweden | AktieTorget Stock Exchange | XSAT |
| CH | Switzerland | Six Swiss Exchange | XSWX |
| CH | Switzerland | Scoach Switzerland | XQMH |
| SY | Syria | Damascus Securities Exchange | XDSE |
| TW | Taiwan | Gre Tai Securities Market (OTC) | ROCO |
| TW | Taiwan | Taiwan Stock Exchange | XTAI |
| TZ | Tanzania | Dar es Salaam Stock Exchange | XDAR |
| TH | Thailand | Stock Exchange of Thailand | XBKK |
| TT | Trinidad and Tobago | Trinidad & Tobago Stock Exchange | XTRN |
| TN | Tunisia | Tunis Stock Exchange | XTUN |
| TR | Turkey | Istanbul Stock Exchange | XIST |
| UG | Uganda | Uganda Securities Exchange | XUGA |
| UA | Ukraine | PFTS Stock Exchange | PFTS |
| UA | Ukraine | Ukrainian Stock Exchange | XUAX |
| AE | United Arab Emirates | Abu Dhabi Securities Market | XADS |
| AE | United Arab Emirates | Dubai Financial Market | XDFM |
| AE | United Arab Emirates | Nasdaq Dubai | DIFX |
| GB | United Kingdom | GEMMA (Gilt Edged Market Maker Association) | GEMX |
| GB | United Kingdom | London Stock Exchange Electronic Quotation | SEAQ |
| GB | United Kingdom | London Stock Exchange | XLON |
| US | United States | US Composite (NYSE, NASDAQ) | USCOMP |
| US | United States | Non Nasdaq OTC BB | OTCB |
| US | United States | New York Stock Exchange | XNYS |
| US | United States | NASDAQ Stock Market | XNAS |
| US | United States | NYSE Arca | ARCX |
| US | United States | FINRA TRACE | TRCE |
| US | United States | Chicago Stock Exchange | XCHI |
| US | United States | OTC Bulletin Board | XOTC |
| US | United States | NYSE Amex | XASE |
| US | United States | National Stock Exchange (USA) | XCIS |
| UY | Uruquay | Montevideo Stock Exchange | XMNT |
| VE | Venezuela | Caracas Stock Exchange | XCAR |
| VN | Vietnam | Hochiminh Stock Exchange | XSTC |
| VN | Vietnam | Hanoi Stock Exchange | HSTC |
| ZM | Zambia | Lusaka Stock Exchange | XLUS |
| ZW | Zimbabwe | Zimbabwe Stock Exchange | XZIM |