ZagTrader Core functions are Clearing, Settlement and Custody
A central clearing house, also known as a central counterparty (CCP), is a financial institution that acts as a third party between two parties in a financial transaction, helping to facilitate the clearing and settlement of trades. The central clearing house acts as a guarantor, ensuring that the trade is completed even if one of the parties defaults on their obligations.
CCP software is used to manage the clearing and settlement process for financial transactions. This software typically includes a range of features designed to streamline the process, such as the ability to:
Process and confirm trades.
Calculate and collect margin requirements
Administer risk management procedures
Monitor and manage the collateral used in the clearing process
Facilitate the exchange of funds and securities between parties
CCP software is typically used by central clearing houses, exchanges, and other financial institutions that facilitate the clearing and settlement of trades. It is an essential tool for managing the complexity and risk associated with financial transactions, helping to ensure the smooth and efficient operation of financial markets.
Some of the key benefits of using CCP software include:
Improved operational efficiency: CCP software helps to automate and streamline the clearing and settlement process, reducing the need for manual intervention and enabling financial institutions to process a larger volume of trades more efficiently.
Enhanced risk management: CCP software includes a range of tools and features designed to help financial institutions manage the risks associated with financial transactions, such as margin requirements and collateral management.
Improved transparency: CCP software provides a centralized platform for the clearing and settlement of trades, helping to ensure that all parties have access to accurate and up-to-date information about the status of their trades.
Increased security: CCP software includes robust security measures to protect against fraud and unauthorized access, helping to ensure the integrity of financial transactions.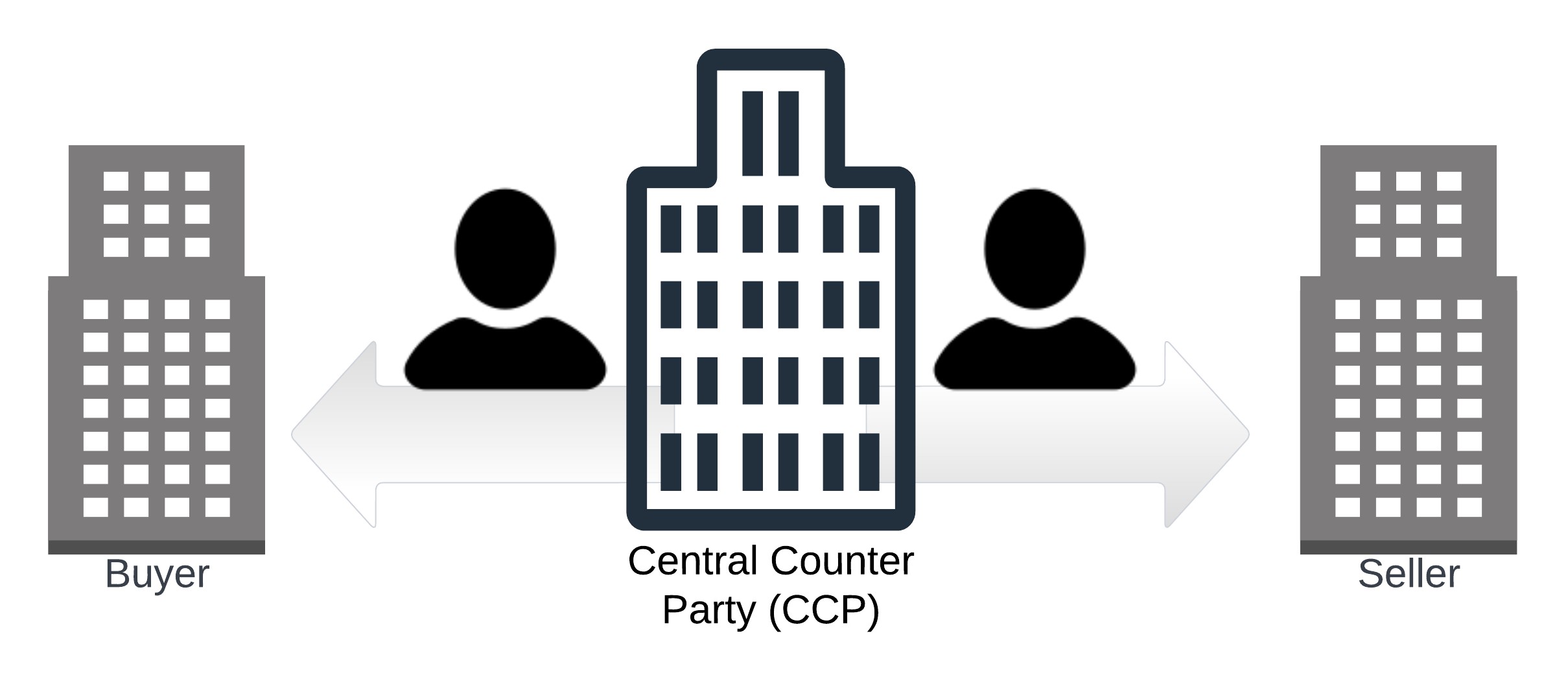 Clearing
After the execution of buy and sell orders, transactions are processed in preparation for the transfer of ownership of the product and the fulfilment of all obligations. Depending on the institution providing this service, several additional services are performed, such as the netting of obligations to ensure fewer processes and cash flows and in particular the evaluation and management of all relevant sources of risk to reduce the probability of failure to meet obligations.
CCP clearing concentrates on trade management, position management, collateral and risk management, and delivery management. Due to these specifications, CCP clearing takes place before the clearing performed by CSDs. CSD clearing concentrates on validating and matching the delivery instructions; the result of which is forwarded to settlement.
Settlement
This process involves matching the buy and sell instructions and subsequently renewing the product's ownership, as well as transferring the related cash. At the due date when the obligation is settled, then the ownership of the product is transferred. Transactions involving securities are usually settled on a delivery-versus-payment (DVP) basis. Once again, netting can be used in this process to reduce the number of settlement transactions, if this has not already been done by a central counterparty as part of the clearing process.
Settlement
ZagTrader's Custody Management System is an integrated Custody Management platform that can be fully integrated with our own EMS, OMS, Clearing & Settlement, Portfolio and Fund management products to provide regulated Custody services for Clearing Members, Funds, Segregated Accounts and Brokers to ensure proper reporting and safekeeping of their own or Client assets.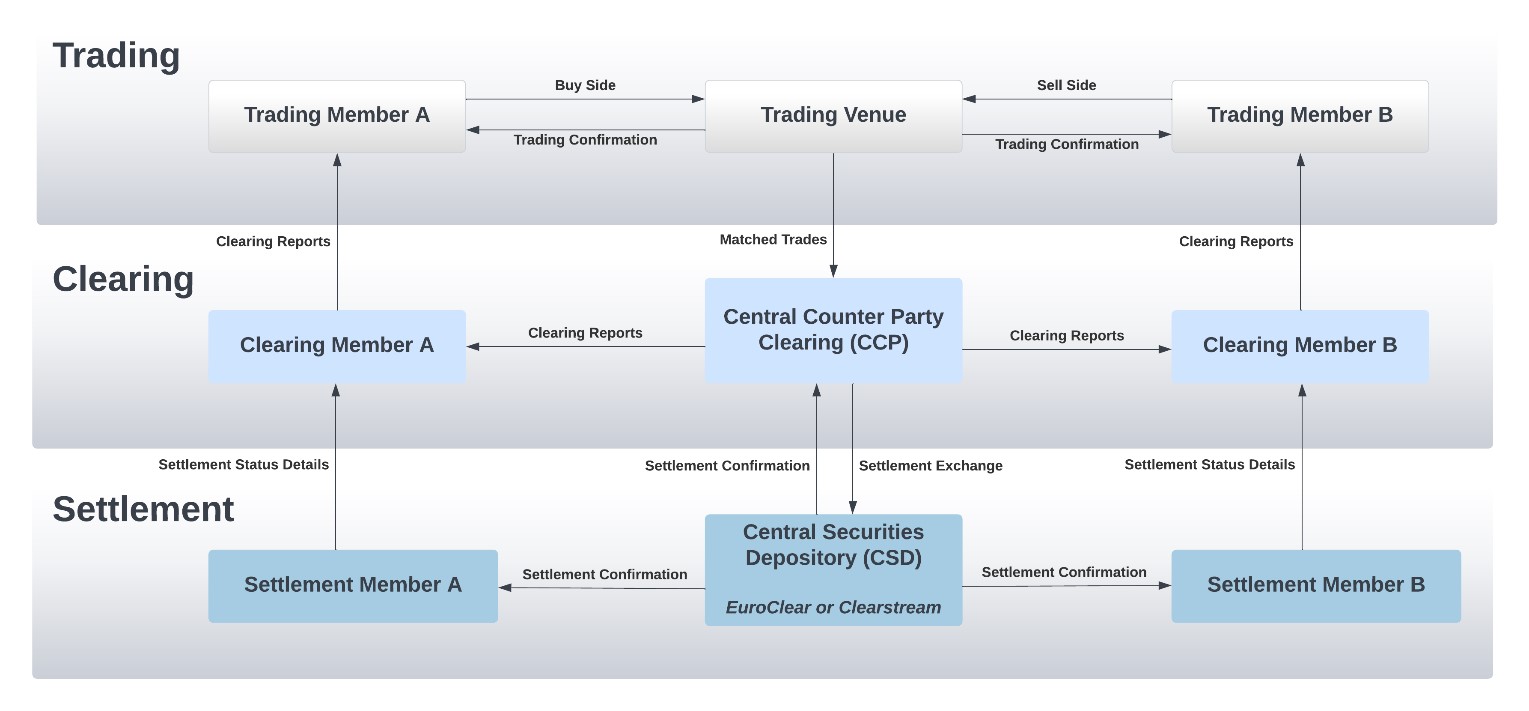 The Custody System supports global investment activities, Sub-Custodians, DVP, FOP and own custody processes. Integration with global Custodians and providers such as EuroClear, Clearstream and HSBC is enabled on a real-time, EoD and on-demand basis.
Market Participants in Clearing, settlement and Custody
Various types of market participants perform can core functions in clearing, settlement and custody.
Clearing
Takes place on different levels (trading level and post trade) and can be performed by:
Central Counterparty Clearing Houses (CCP Clearing)
Central Security Depositories (CSD/ICSD Clearing)
Banks (for internal transactions)
Clearing members (banks, brokers)
Settlement
Central Security Depositories (CSD)
Central Counterparties
Banks (for internal transactions)
Banks and Brokers
Custody
Central Security Depositories (CSD/ICSD)
International Security Depositories (ICSD)
Banks
Brokers
Key Features
Centrally managing and reducing the counterparty risk
Reducing the liquidity risk and operational risk
Administration of asymmetrical information
Enhancing the financial reliability and efficiency
Improving the effectiveness of surveillance activities
Reducing the brokerage and transaction costs
Reducing the systemic risk
Overall, CCP software is an essential tool for financial institutions that need to manage the clearing and settlement of financial transactions in a fast, efficient, and secure manner.
Collateral and Liquidity Management | Daily Mark-to-Market / Variation Margin | Customer Segregation and Portability
A Central Counterparty (CCP) is a financial institution that acts as a clearinghouse for financial transactions. It provides clearing and settlement services for a wide range of financial instruments, including futures, options, and securities. A CCP helps to reduce the risk of counterparty default by acting as a buyer to every seller and a seller to every buyer in a transaction.
CCP software is used to manage the clearing and settlement process for financial transactions. This software typically includes features such as:
Risk management:

control, analysis and forecasting in one integrated solution, empowering treasury stakeholders with automated processes, effective technology, consistent views, and coherent data.

Collateral management:

transform while making the most of your current ecosystem, integrating with existing systems to drive efficiency and capture innovations such as Machine Learning (ML) and Artificial Intelligence (AI).

Trade matching:

superior risk-adjusted returns with pricing, trading and risk capabilities that deliver a consistent analytics framework on top of a real-time investment book or order blotter.

Reporting and reconciliation:

quick and sustainable path to compliance with phased transformation, delivering better operational oversight alongside integrated risk management and a clear perspective on risk.

Integration with external systems:

new products (such as gold account, etc.) can be integrated in the day-to-day operations in the bank to become effective building blocks in the investment bank's offerings.
CCP software plays a critical role in the financial industry by helping to reduce risk, improve efficiency, and increase transparency in the clearing and settlement process.
World at your Finger Tips
Mobile Application
Customers trade whenever and wherever
200+ Global Markets
Realtime Market Data Feeds. Buy / Sell in multiple market
Single Integrated Interface
All Departments connected under ONE System
Calculate Fees & Charges
Real time lien and calculation of fees and charges with complete audit and reporting
Connect Core Banking System in Realtime
Real time synchronization and access to core banking system
Scalable & Cost Effective
Introduce New Products Generate New streams of Income.
Collaborate to Innovate with ZagTrader