Emergence of new technology such as Blockchain, Artificial Intelligence (AI), Machine Learning (ML) and deployment of cloud technology have been a growing foundation for introduction of newer operating models, better performance, simplifying transformation with improved investment banking services.
There has never been a better time for a change. Leveraging these technologies investment bankers now have the means to transforming their current business model. One of the biggest challenges faced have always been the availability of front office productivity and focus on optimizing risk and capital allocation, putting demand on IT infrastructure that runs efficiently, is cost-effective and handles changes more rapidly.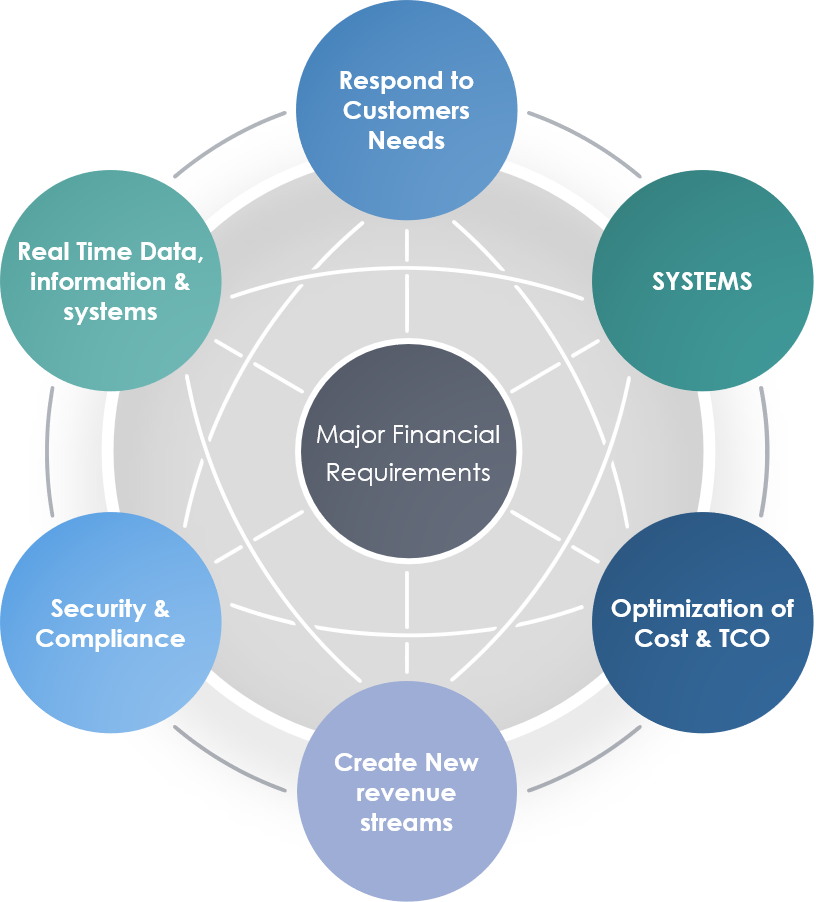 Fig: Investment banking is becoming increasingly complex.
ZagTrader Investment Banking platform offers a single solution to many challenges faces by modern traders, portfolio managers & investment bankers within banking environment, be it equity, forex, OTC markets, derivatives, collectibles, assets such as real-estate, futures or art! ZagTrader platform brings an integrated approach to a complex challenge of trading in multiple asset classes, risk management and trade processing thus enabling capital markets support business growth, improve Straight-Through Processing (STP), shortened time to market while reducing overall costs.
With innovative API driven connectivity with cloud technology stacks and efficient framework based on agile methodologies has enabled ZagTrader to move brick and mortar financial institutions obtain a viable competitive edge and ensure better innovation, profitability, and expansion to new markets and subsequently staying in the game.
The need for greater portfolio diversification, growing regulation and a deluge of data are challenging firms at a time when they are also being pressured for more clarity and transparency.
The Sophisticated Dream Scenario
Real-Time Investment Book of Record that supports all business functions -from front office and risk through to compliance, investment accounting, asset allocation and collateral management.
Consistent and real-time data and analytics to all business functions across various investment process such as dashboard, reports, charts, fundamental data, what-if scenarios, events, corporate actions, alerts and notifications.
Analyse & Audit all aspects of investment processes to meet different reporting, margin, clearing, settlement and regulatory requirements.
Faster & better front office workflows that will allow investment managers take new products into market
Robo-Advisor Execution & Pricing Framework, a simple implementation for HTTP based APIs over the execution management system that is equipped with global pricing, routing transactions all over the world
Out of box connectivity to Bloomberg EMSX, EMSX NET, TSOX or Refinitiv (formerly knows as Thompson Reuters, or ULLink, etc. or just any other custodian or 3rd party Broker or destination
Streamline operations & accounting and reduce Total Cost of Ownership (TCO)
ZagTrader give portfolio and investment managers the right tools to perform better in a market that's becoming ever more complex and highly regulated.
Fig: Integrated Order Routing & Management & Order Book.
Unrivalled cross-asset coverage alongside sophisticated pricing engines, risk models and trade processing capabilities.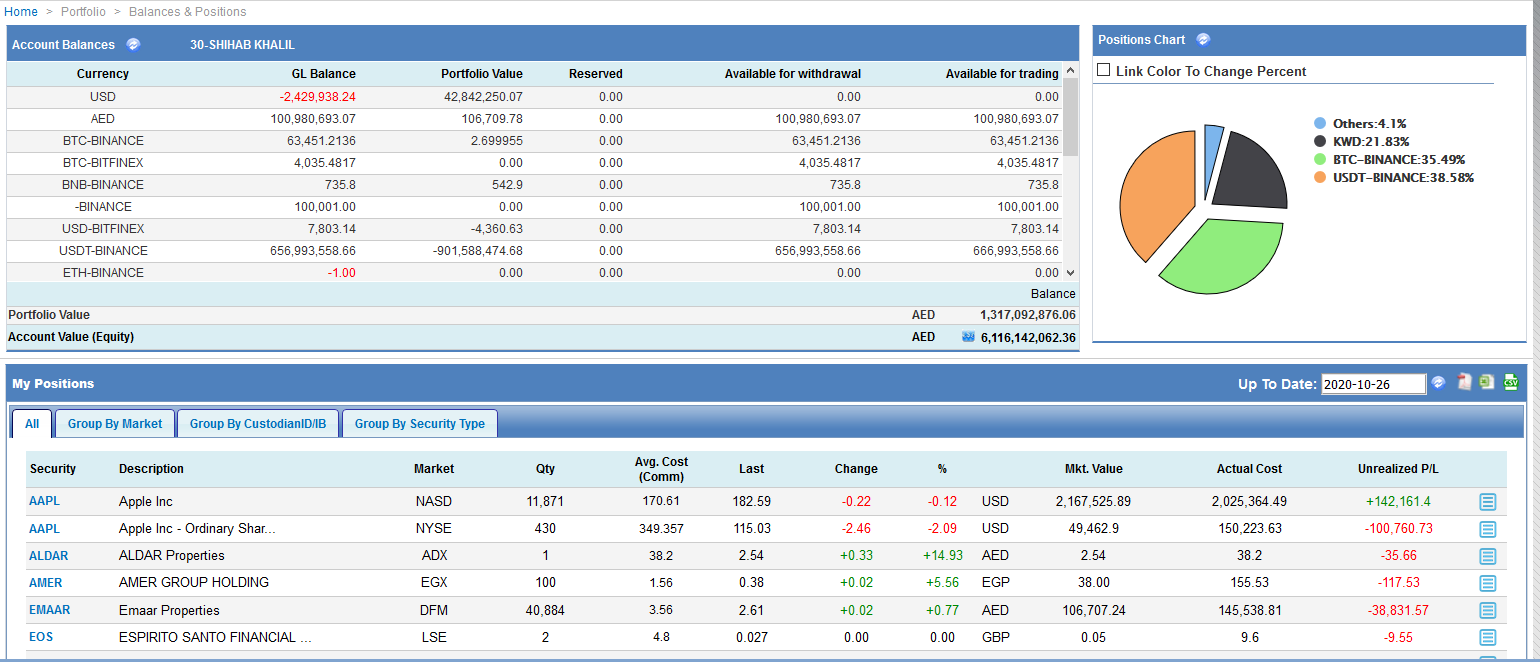 Fig: Real-time & central underlying data for efficient & risk compliant operations.
Full scalability and agility – ZagTrader evolve with business needs and includes functionality that can be easily activated and kept updated. Forever.
ZagTrader Investment Banking Platform – is specially engineered for banks and integrates to banks' core banking platforms seamlessly with a clear and flexible governance framework that will easily adapt to the dynamic business environment.
One single integrated system wherein all departments within an investment management company can work together seamlessly, transforming risk management within the organisation.
Investment managers have comprehensive and consistent real time price/data feeds for global markets and risk capabilities across all asset classes.
ZagTrader makes this possible by providing an out of box access to market leading analytics, charting powered by Trading View, Datafeed from across the globe and risk figures, computed in real-time, across a range of assets classes in the market.
All information, parameters, calculations use the same underlying data with consistent and customisable methodologies, alerts , notification with complex user permissioning (three or our eyes checks) so whether you or your team/ office is working out of New York or Japan or London office or anywhere around the world in various department within the organisation, you can be sure that everyone authorised is seeing exactly the same real-time numbers as you are. Everything synchronised.
Unprecedented and efficient workflows provide investment managers and the company with a wide range of competitive advantage and alignment with management, Sales/ client Services, decision-making, investment risk, compliance and performance departments.
With our system-agnostic solutions, capital markets organizations can create or integrate with more coherent and flexible IT architectures, with the option to add Cloud capabilities.
Lead the Transformation. Accelerate Innovation in Treasury and Capital Markets Offering
Treasury:

control, analysis and forecasting in one integrated solution, empowering treasury stakeholders with automated processes, effective technology, consistent views, and coherent data.

Investment banking:

transform while making the most of your current ecosystem, integrating with existing systems to drive efficiency and capture innovations such as Machine Learning (ML) and Artificial Intelligence (AI).

Investment management:

superior risk-adjusted returns with pricing, trading and risk capabilities that deliver a consistent analytics framework on top of a real-time investment book or order blotter.

Risk and compliance:

quick and sustainable path to compliance with phased transformation, delivering better operational oversight alongside integrated risk management and a clear perspective on risk.

Product Management:

new products (such as gold account, etc.) can be integrated in the day-to-day operations in the bank to become effective building blocks in the investment bank's offerings.

Regulatory Reporting:

seamlessly manage reporting with an automated and dynamic reporting solution for compliance with regulations including MiFID II, GDPR, Securities Financing Transactions Regulation (SFTR), European Market Infrastructure Regulation (EMIR) for OTC derivatives reviews.

Competitive Edge:

increase the competitiveness of the bank and raises the bar very high for competition to catch up. Extend your business capabilities and build a competitive advantage.

Cloud Compliant:

Host on Premise or over the Cloud via our partnership with Microsoft Azure Solutions
Potential Growth & Multi-Layered Offering
Commodity-backed Accounts, such as Gold, etc.
Custom ETFs & Structured Products
Instant Global Trading of
Stocks
Bonds and Sukuks
Treasury Bills
Derivatives
Currencies & FX
REITS / Real Estate Trusts
Portfolio Consolidation
Traditional & Digital Assets
Wealth Management and Advisory
Custody Services
Real time automated orders hedging
Custom rules that allows sending orders straight to execution
Commodity-backed Accounts, such as Gold, etc.
Create structured products.
Routing the transactions to all over the world.
Price the structured products due to the available global data feed by ZagTrader.
Create structured products by quantity or percentage.
Capabilities of creating the structured products on a daily or weekly basis.
Automatic upgrading options for the created products.
Ability to trade for each client individually or over the company's prop account.
Advanced reports, including reports that shows the overall exposure.
Attract local and international new types of clients (Retail and High Net-worth)
World at your Finger Tips
Mobile Application
Customers trade whenever and wherever
200+ Global Markets
Realtime Market Data Feeds. Buy / Sell in multiple market
Single Integrated Interface
All Departments connected under ONE System
Calculate Fees & Charges
Real time lien and calculation of fees and charges with complete audit and reporting
Connect Core Banking System in Realtime
Real time synchronization and access to core banking system
Scalable & Cost Effective
Introduce New Products Generate New streams of Income.
Collaborate to Innovate with ZagTrader