Bloomberg's SSEOMS alternative?
ZagTrader got you covered!
The ZagTrader Execution Management and Order Management System provides traders with a feature rich environment to manage, view and optimize executions.
Through its advanced real-time analytics, market microstructure analysis and algorithmic execution capabilities; the system also provides a fully customizable UI and high-throughput backend which ensures the demands of the trading business can be fully catered to.
Advanced Risk Management and Pre-Trade Compliance
The platform through its advance Back-Office and OMS engine provide superior Pre-Trade, Post-Trade, Compliance and Reporting to the Crypto and Digital Assets industry - the same way it has been offering the Banks / Brokers, Asset Managers/ Portfolio Managers in conventional markets around the world for over a decade. 
Ultimate Flexibility
We understand that every organization has its own set of rules and requirements which makes it different than any other organization. Most vendors in this space provide a one size fits all solution which does not provide the comfort level needed to run your operations and scale on it.
ZagTrader over the years has developed an advanced customization engine which allows the organization to write their own code if they needed to control or override or complement existing rules related with the organization management decisions. Such rules include but not limited to Order Placement, Pre-Trade Assessment, Post-Trade Allocations, and, much more. For example, imagine you are able to tell a platform not to accept and order for a security that does not have a certain feature or a client not mapped to it or go to the extreme of adding a rule that no graphical interface can capture such as  "Reject and order" of the symbol starts with a "letter A" and the last name of the client ends with the "letter Z", and, it's "Tuesday noon". Such rules add one line of code in the ZagTrader custom plug in builder. Just imagine flexibility on your side can do for you.
Another use case on the Pre-Trade maybe we have a Black List Database running in a different platform and we wish to cross check it real-time before the order is accepted, and if not, provide a meaning full rejection reason back to the user. These rules are centralized and can (by choice) apply on all channels such as client entered orders, employees entered orders, institutional orders arriving via FIX etc. 
Advanced Stop Management
ZagTrader platform has an advanced conditional orders management system which will allow you to set a stop loss, take profits, buy stops and sell stops even if the destination does not support these order types.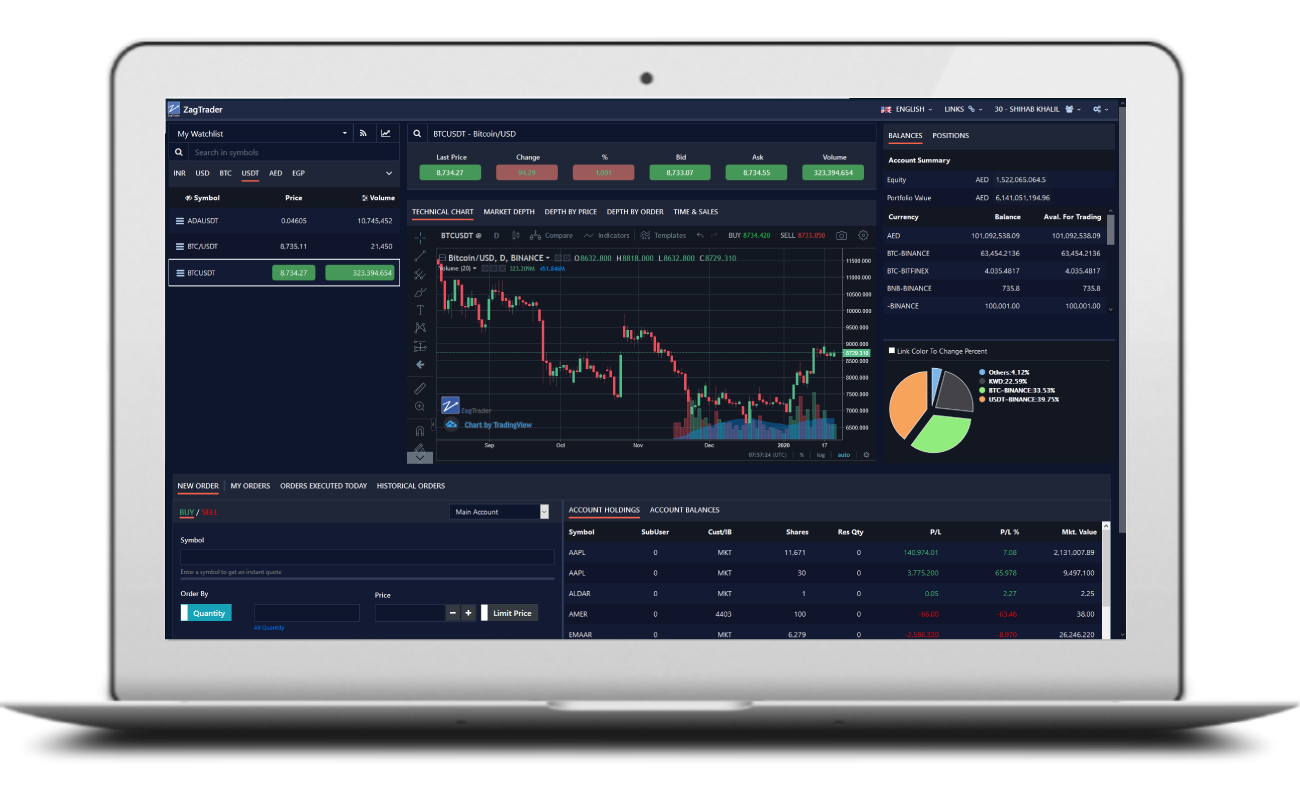 Global Multi Asset Trading
Global Data feed with the capability to connect to multiple price sources
Powerful market Microstructure Analytics
Trading Algorithms and TCA driven strategies
Pre and Post Trade Client allocation functionality
Institutional order flow tools and capabilities
Smart order routing and Flow management
Multiple trade types such as Iceberg, Block trading, and NAV trading
Some of what is available!
Receive and send orders from/to: AUTEX, EMSX, NYFIX, TSOX, Dark-pools, Prime brokers and any FIX compliant destination.
Trade workflow with user limit, approval and authority matrices built in to the platform.
High and Low touch trading workflows with the ability to automate or semi-automate order management based on real-time market conditions and liquidity.
Integrate with settlement destinations such as Clearstream and Euroclear with SWIFT messaging.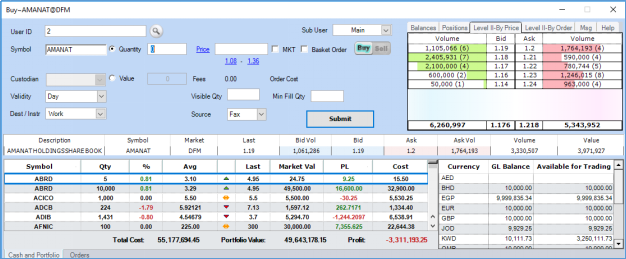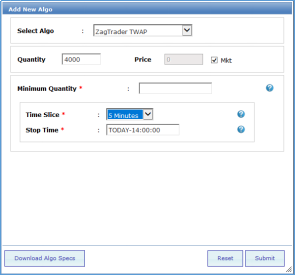 Parent-Child order management, aggregation across multiple accounts and intelligent execution to manage orders that require Pre-Trade account allocation.
Algorithmic Trading (create your own, use our built-in Algos, or external providers like ITG which are natively available in our system).
Create internal custom marketplaces with internal trading capabilities.
Fully integrated with ZagTrader Middle/Back office systems and enabled for integration with existing external systems on a SoD, EoD or real-time basis.
Desktop / Client side trading application with optimized resource utilization and high load capacity.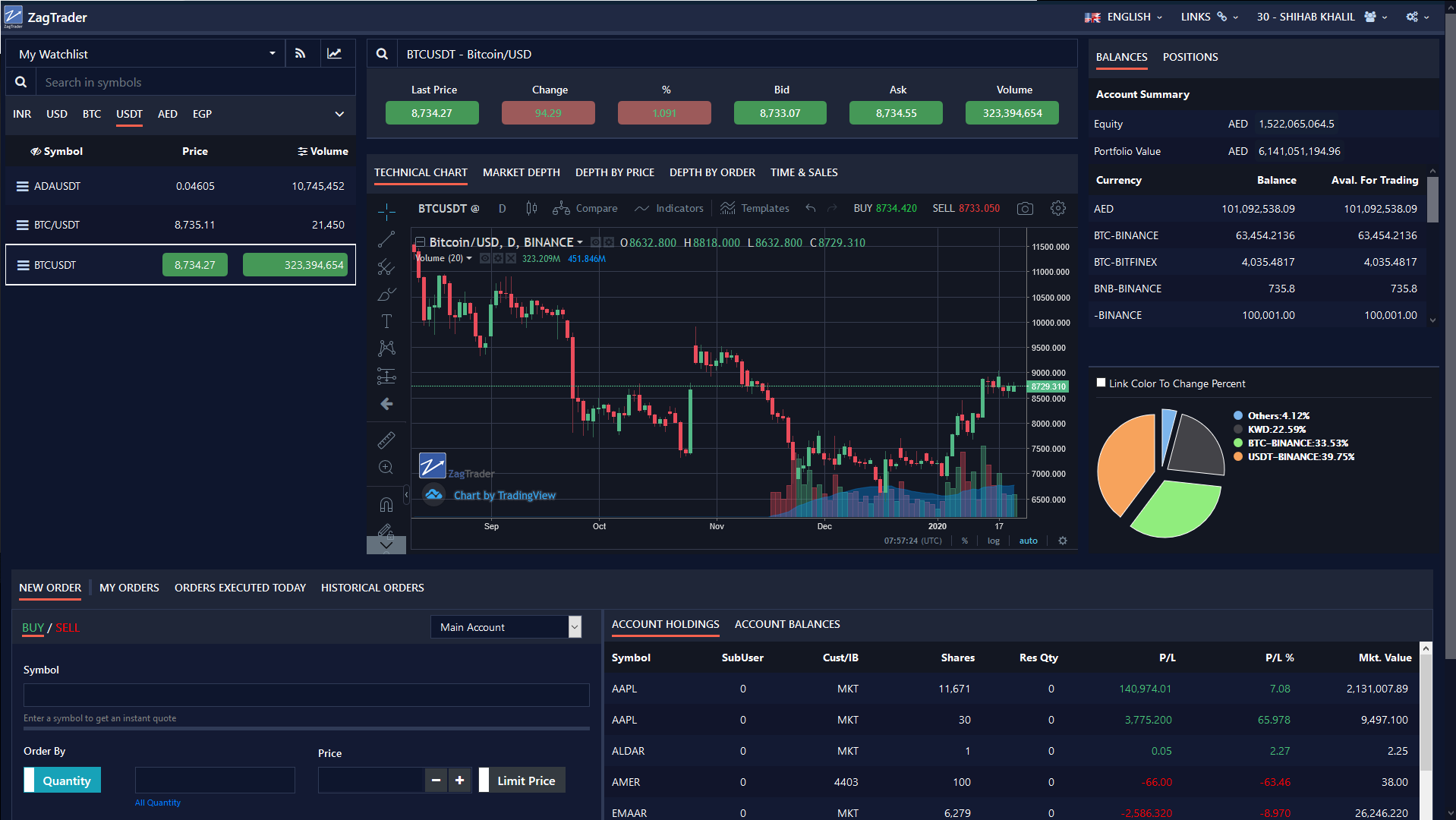 Dedicated FIX infrastructure to accommodate all channels of in-bound orders and routing to any FIX, Websocket or API compliant external destination.
Ability to process trades and orders on an STP basis to ZagTrader's own or external Backoffice systems in real-time throughout the trading session.
Built-in charting and analytics with custom indicators, views and layouts.
Multiple solutions including managed, hosted, co-located and on-premise.
Desktop, Tablet and Mobile applications with 2FA to enable traders the ability to constantly monitor and manage trading flow in a fully secure manner.