ZagTrader's off the shelf software reduces development challenges, providing a framework for building a trading platform, risk management, algorithms, supporting multi-asset classes for more than a decade.
ZagTrader Digital Asset Exchange Solution is designed for rapid deployment, extreme scalability, high operation including extensive customization at low-cost operation.
ZagTrader offers white-label exchange solutions for digital assets, equities, FX, futures/derivatives & margin trading, tokenization (primary market) and more. ZagTrader also provides solutions for payment transfers, payment gateways, ATMs, point of sale (POS) systems, card issuing, custodial services, core banking connectivity and other applications.
Gain control over all aspects of Crypto Execution, Order and Portfolio Management and Operations such as Smart Order Routing, VWAP, TWAP, Sniper, Arbitrage and various advanced order types along with advanced features for Crypto Market Makers such as providing liquidity with rule-based parameters, spread between buy and sell orders, manage inventory balance, automatically hedge positions.
Ultra-High Trading technology provides execution venues of all sizes with reliable, comprehensive, multi-asset & multi-currency capabilities to keep pace with ever-changing market requirements.
ZagTrader Framework
At ZagTrader we believe that the digital platforms that provide automated, algorithm-driven financial planning services are becoming mainstream. The rise of automated services means the consumers are shifting towards using FinTech applications for investment management and this is where ZagTrader Framework steps in.
The ZagTrader platform does not only provides real-time automated services with the executive management and pricing capabilities but also acts as the Back Office providing accounting features and advanced reports for all the trades executed and structured products created.

Matching Engine:

combines seamless performance with extensive functionality to meet current and future business and performance requirements and is still cost-effective to help smaller to mid-tier exchanges meet their ambitions.

Multi Matching Engine:

Appropriate for exchanges trading multiple asset classes and/or financial instruments and also have performance challenges requiring multiple partitions. Supports high volume markets across asset classes including derivatives trading and smart contracts, spots, etc.

Regulatory Reporting

Algo Engine:

With advanced real-time analytics, market microstructure analysis and algorithmic execution capabilities; the system also provides a fully customizable UI and high-throughput backend which ensures the demands of the trading business can be fully catered to Trading Algorithms and TCA driven strategies.
Key Features
Supports matching across numerous asset classes in a single solution.
Unique pre-trade risk management with real time margin updates built within the matching engine.
Integrated and out of box Pre-Trade Risk Management, which adds robust sub-microsecond risk checks and portfolio offsetting risk checks above and beyond what is in the matching engine.
Easy member onboarding, leveraging industry-standard protocols and interfaces.
Open architecture: allows seamless integration with any 3rd party solution.
Provides white label solutions to other financial institutions.
Extensive user privilege capabilities
Reduced operational complexity with the lower total cost of enhancements and changes to the system
Dynamic infrastructure with the industry-leading throughput and performance to keep exchange successful and operational
Conveniently Hosted at Your Side with Zag Cloud
ZagTrader develops dedicated modes for Hedge Funds, Crypto Exchanges and Token Issuers helping them with fully automated market neutral strategies, enabling tokens to get initial traction and show value to their investors and empowering crypto exchanges to build healthy organic liquidity on their respective markets.
Trade-in Cryptocurrency ETF via designated brokers or liquidity provider or listed exchange
Trade crypto pairs on multiple exchanges and liquidity pools that generate real trade volume
Host it in your private cloud or through us with Microsoft Azure
Enjoy a simple Web front-end for configuring, running, and monitoring your trading strategies.
Utilize a flexible pricing engine to control your price quotes.
Set up risk limits at trading level, currency/asset level, and system level.
Utilize a highly customizable hedging logic configurator that best fits your needs.
Perform real-time monitoring of trading statistics including day trading volume, open volume on the market, P&L.
Receive/View trading alerts via email SMS and notifications.
Use Trade Reports and Wallet Balance Monitoring.
Use RESTful API for programmatic management of trading and risk rules and connect to various execution destinations.
Furthermore, ZagTrader is expanding its reach to target the investors directly by introducing its new Social Trading Platform which will be announced later this year, the new social trading platform of ZagTrader will allow individuals to have a consolidated portfolio across multiple exchanges in both traditional and digital markets, follow and copy trades of top influencers, integrate their custom-developed API's and execute in desired markets. And much more.
Why ZagTrader Crypto Exchange Platform?
Deep Liquidity: Get access to liquidity providers and connect to 100+ digital exchanges and 200+ traditional markets, trade on for the most popular crypto assets & exchanges: BTC, LTC, DASH, ETH, ETC, Binance, Bittrex, BitMEX, Kraken etc. …more. All backed up by our highly sophisticated market-making algorithm.
Proven & Tested: Based on the most reliable and advanced matching engine technology with a capacity of over 50,000 trades per sec. Highly Scalable, and User-Centric Cryptocurrency Platform.
Secure: Provide an extra level of security with 2FA and Email Notifications and use many other options to increase the confidence of your clients.
All in one solution: Our system includes both the front-end and Back office in a single integrated interface with the option to fully integrate with custodial and non-custodial cryptocurrency wallets such as BitGo.
Advanced analytical & risk tools: Interactive charts & technical indicators for determining pivotal points. Set -up Conditional and alerts with full risk management & regulatory reporting.
Flexible commission settings: multi-layers configuration for maker/taker commission per currency or market or trader or set-up (omnibus, custody management)
Open Environment: REST API, HTTP, FIX Protocol, Binary (in/out), various options allowing you to connect, integrate or build your user interface or front-facing UI.
Our solutions enable you to operate your business entirely on your terms. For a one-time license fee, we'll install our solution on your AWS or Azure servers, or your hardware on-premise or we can manage the whole IT infrastructure over the cloud for you, provide training to get you started, and hand the controls over to you. Should you require any assistance from us, 24/7 support is just a phone call away.
A single solution to many challenges faced by modern traders, portfolio managers & investment bankers within the crypto environment, the ZagTrader platform brings an integrated approach to the complex challenge of trading in multiple exchanges including arbitrage, risk management and trade processing thus enabling capital markets to support business growth, improve Straight-Through Processing (STP), shortened time to market while reducing overall costs.
A unique end-to-end trading platform, connected to 130+ crypto exchanges, equipped with rich front-ends, back-office, accounting, algos and institutional tools.
The Sophisticated Dream Scenario
Trade
Access and connectivity to 130+ crypto exchanges – LINK TO THE CRYPTO OMS PAGE which covers exchange API connections to the leading spot and derivative exchanges (Coinbase, LMAX, Kraken, Binance, Deribit, Bitmex, FTX, etc)
3rd Party Integration or semi-automation: Reconciliation trades from your internal trading systems to the exchange trades
Supports with derivative products including options, futures and perpetual swaps
Risk reporting and current exposure: a comprehensive dashboard and reports that enable portfolio managers to monitor risk, exposure, wallets, performance indicators all in one place, and in real-time – A one-stop shop to monitor your activity at a glance.
Real-Time Reporting
Real-Time Investment Book of Record that supports all business functions -from front office and risk through to compliance, investment accounting, asset allocation and collateral management.
Consistent and real-time data and analytics to all business functions across various investment processes such as dashboards, reports, charts, fundamental data, what-if scenarios, events, corporate actions (equity markets), alerts and notifications.
Produce real-time P&L reports, historical P&L and a daily NAV of the fund including all fees related to your fund (performance and management fees, commissions, costs etc..).
Provide real-time position monitoring & smart Order Routing: Access Crypto market liquidity from multiple venues and counterparts, all in one place, thus Optimize your trade execution through our institutional trading algorithms and Smart Order Router.
End to End Front -Middle -Backoffice
The result: the power to focus on strategy and streamline operations.
Full Accounting: General Ledger, Fees Management, Journal Vouchers, Bills and invoices, etc.
Fees and Accruals Management
Trade confirmation and reconciliation
Trade settlement & portfolio postion reconciliation
Real-time NAV calculation
Fees reconciliations: Management, Performance, Administrative fees
Integration with 3rd parties enabling real-time reconciliation between exchanges, custodians, brokers
Regualted & Integrated Order Routing & Management & Order Book
World at your Finger Tips
Mobile Application
Customers trade whenever and wherever
200+ Global Markets
Realtime Market Data Feeds. Buy / Sell in multiple market
Single Integrated Interface
All Departments connected under ONE System
Calculate Fees & Charges
Real time lien and calculation of fees and charges with complete audit and reporting
Connect Core Banking System in Realtime
Real time synchronization and access to core banking system
Scalable & Cost Effective
Introduce New Products Generate New streams of Income.
Collaborate to Innovate with ZagTrader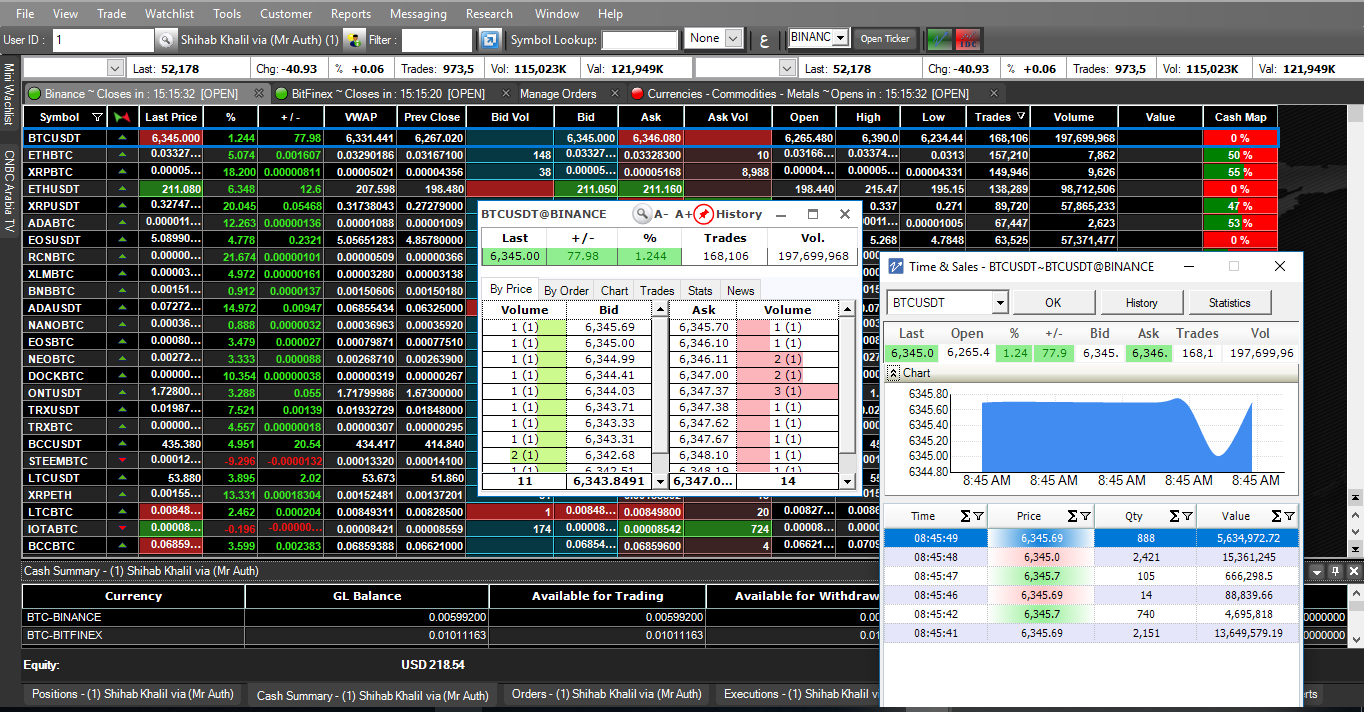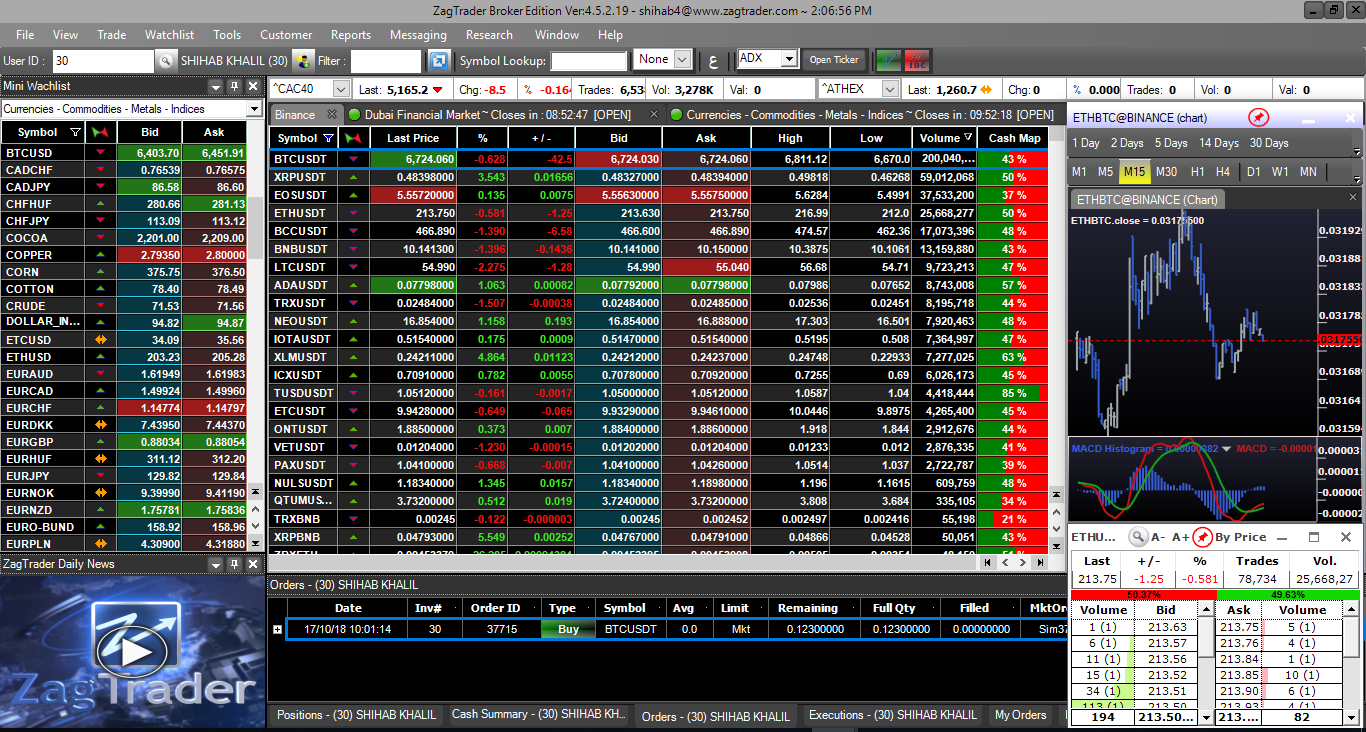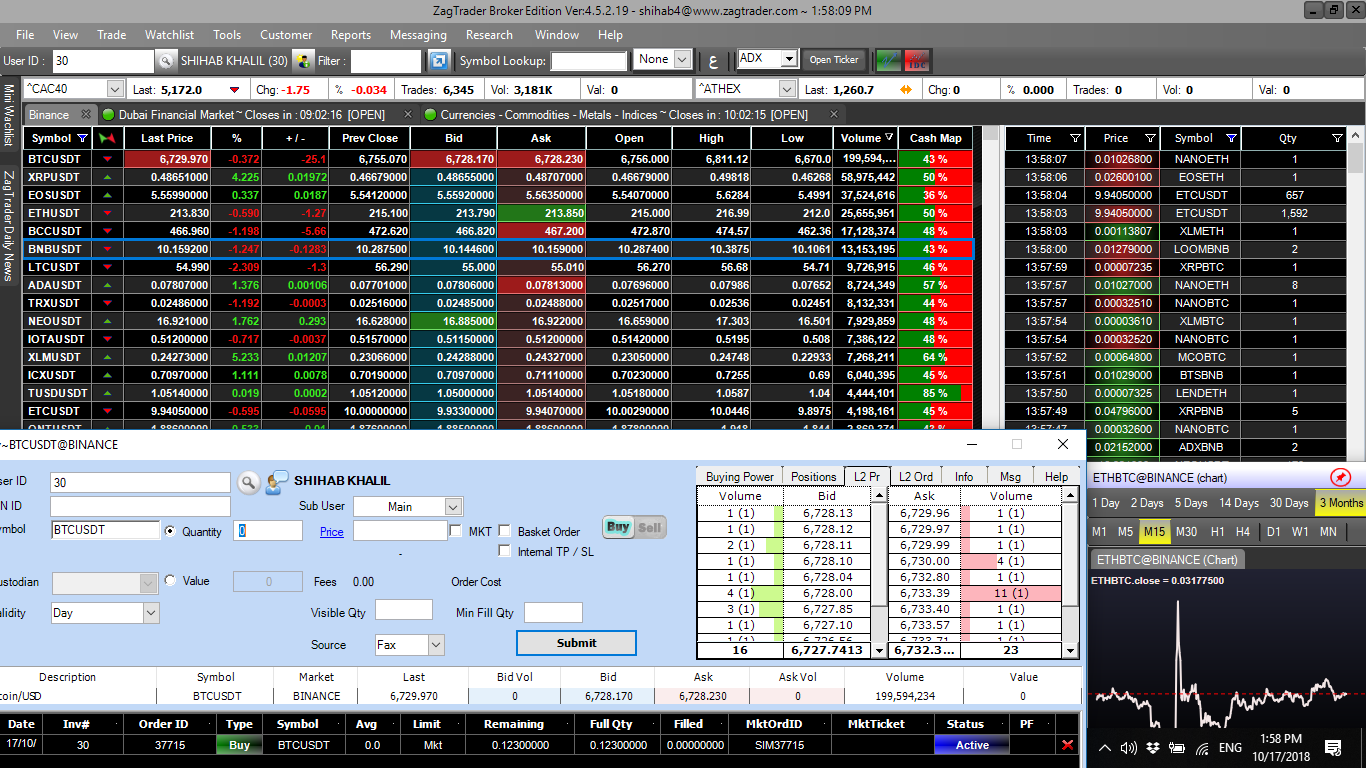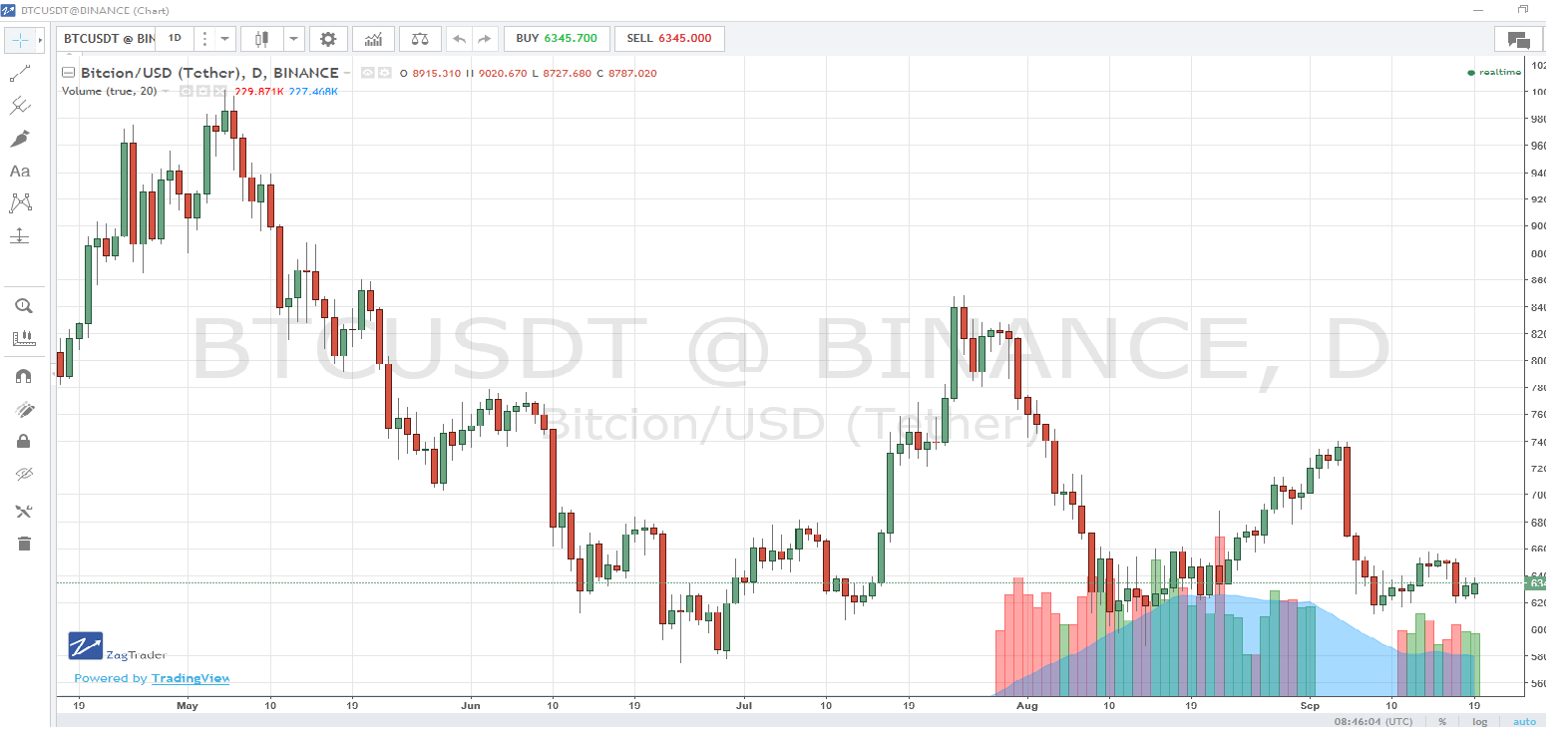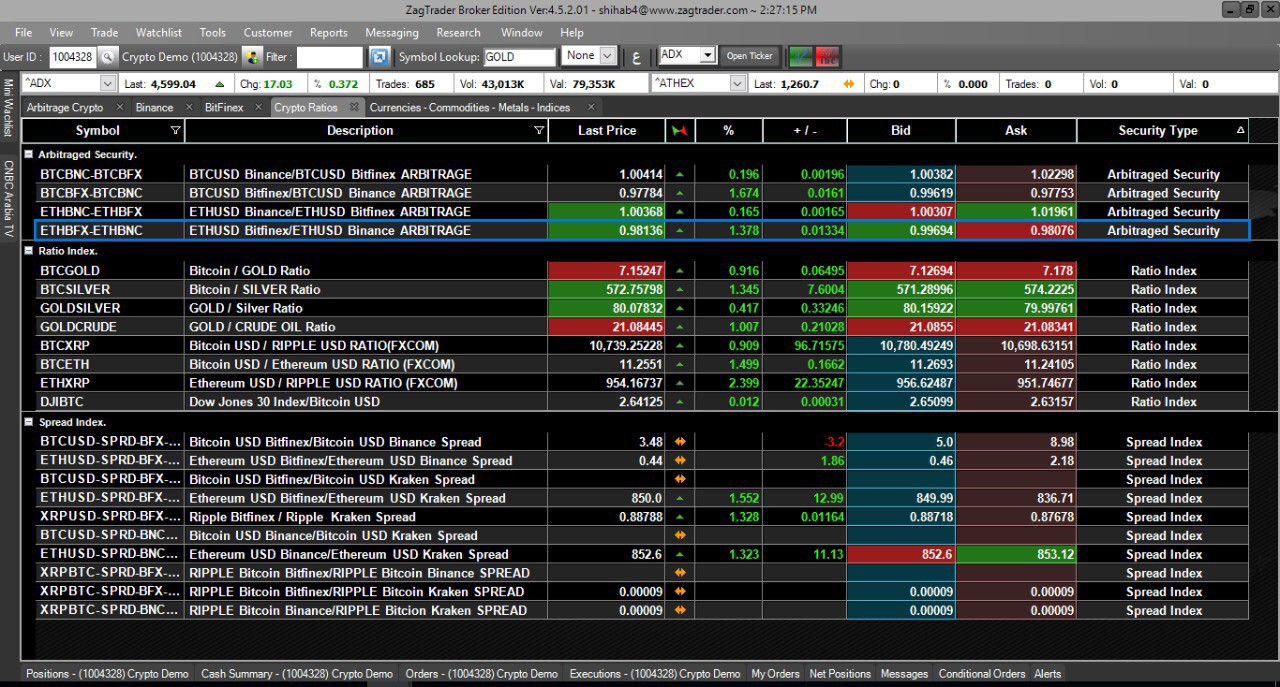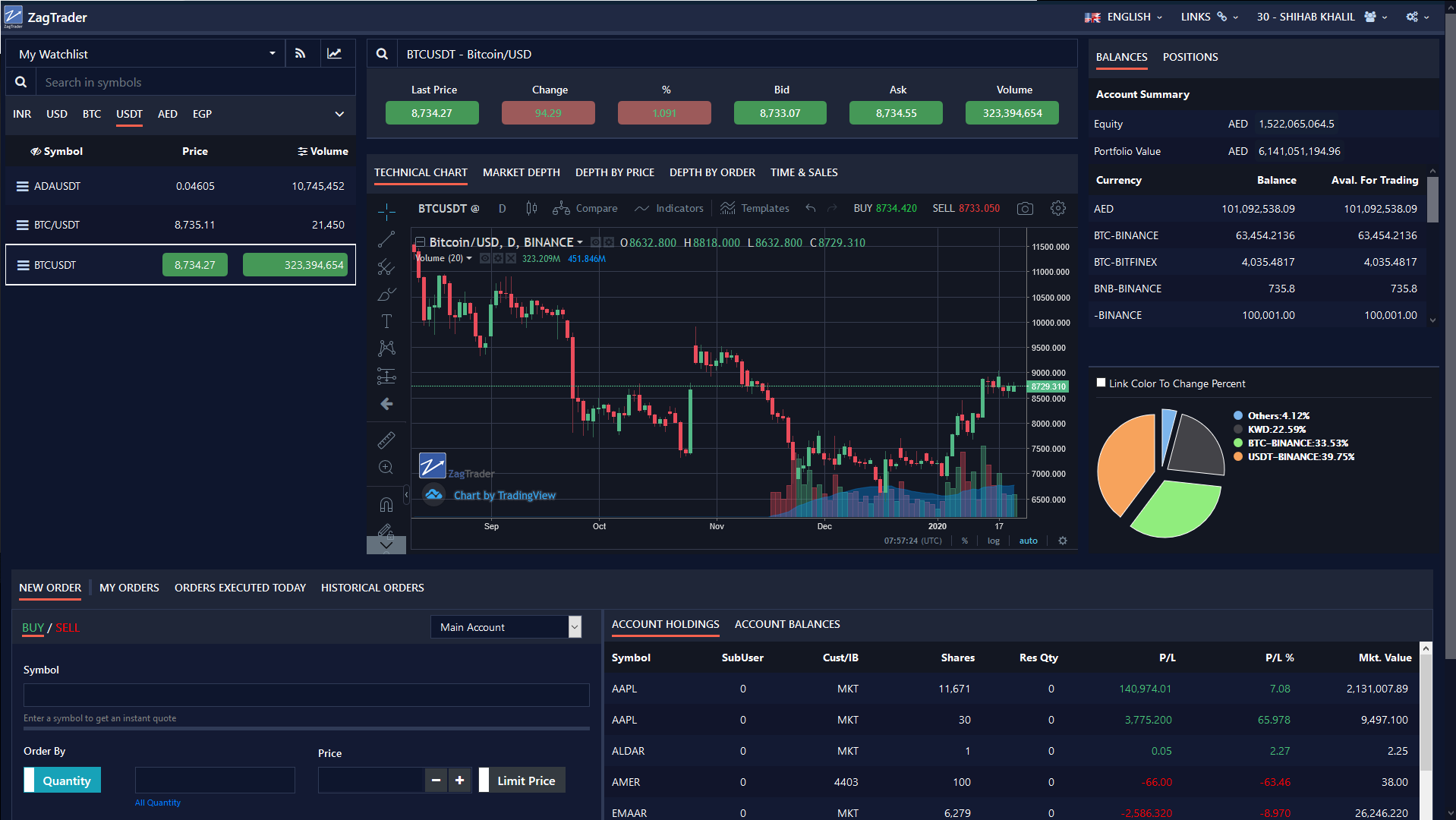 Exchange
Create Order
Cancel Order
Market Price Order
Limit Order
Fetch order status (emulate fills)
Fetch account balance
Fetch Trades (for fills)
Historical OHLC Data
Price Feed Level 1 per Symbol
Fetch All Symbols in 1 Call Level 1 Data)
aax










ascendex









bequant










bibox









bigone










binance










binancecoinm










binanceus










binanceusdm










bit2c








bitbank









bitbay








bitbns









bitcoincom










bitfinex










bitfinex2










bitflyer









bitforex








bitget










bithumb









bitmart










bitmex










bitopro










bitpanda










bitrue










bitso









bitstamp









bitstamp1









bittrex










bitvavo










bkex






bl3p







blockchaincom









btcalpha








btcbox








btcmarkets









btctradeua






btcturk









buda








bw








bybit










bytetrade










cdax










cex









coinbase





coinbaseprime










coinbasepro










coincheck








coinex










coinfalcon










coinmate









coinone









coinspot






crex24










cryptocom










currencycom









delta









deribit










digifinex










eqonex








exmo










flowbtc









fmfwio










ftx










ftxus










gateio









gemini









hitbtc










hitbtc3










hollaex










huobi










huobijp










huobipro










idex










independentreserve









indodax







itbit








kraken










kucoin










kucoinfutures









kuna










latoken










lbank









liquid










luno










lykke










mercado









mexc









ndax









novadax










oceanex









okcoin










okex










okex5










okx










paymium







phemex









poloniex








probit










qtrade









ripio










stex









therock










tidebit








tidex









timex










upbit









vcc










wavesexchange









wazirx








whitebit






woo







xena









yobit









zaif






zb








zipmex









zonda