The insurance industry faces a number of challenges driven by changing demographics, low interest rates, increasing competition, and new regulatory initiatives.
In an era where identifying and managing risk is more complex than ever, insurers are challenged to make optimal investment decisions. ZagTrader Insurance Portfolio Management Solution (PMS) is designed to help firms identify and evaluate risk with greater accuracy, granularity and timeliness.
ZagTrader Portfolio & Investment Management Platform for the buy-side delivers cross-asset trading, front-to-back operations, cash & position management, market, credit, and liquidity risk management, as well as regulatory reporting.
The system covers key regulatory requirements, ZagTrader applies the latest technology innovations to provide new levels of usability, flexibility, and ease of integration.
This translates into dramatically lower time to market, lower total cost of ownership, and significant improvements in operational efficiency. Enabling firms across the globe to implement faster, reduce risk, reduce costs and more rapidly take advantage of market opportunities.
Fig: An integrated platform that supports front-to-back office functions, provides new levels of usability, flexibility & integration
Features
Complete product coverage including exchange tradable securities (equities, fixed income, funds, etc) and non-listed investments (real estate, art, etc).
Real Time Cash Flow and Position information.
Execute strategies and place your trades on ZagTrader and Integrate with Clearing, Prime Brokers and Fund Administrators.
Auto rebalancing capabilities that directly pushes orders to the OMS.
Dynamic Real Time Reporting including VaR.
Real-time portfolio and strategy reporting, attribution and risk analysis.
Inbuild and ready to use full accounting (General Ledger, P&L, Journal Vouchers).
Calculated in real-time, including options to value using different currencies and real time audit.
Get access to Global Market Data Feed.
Open architecture seamlessly integrates with existing internal and other 3rd party systems using plug-in APIs or FIX.
Applying the latest technology innovations, ZagTrader improves valuations, increases transparency and simplifies operations with its Next Generation Portfolio Management System.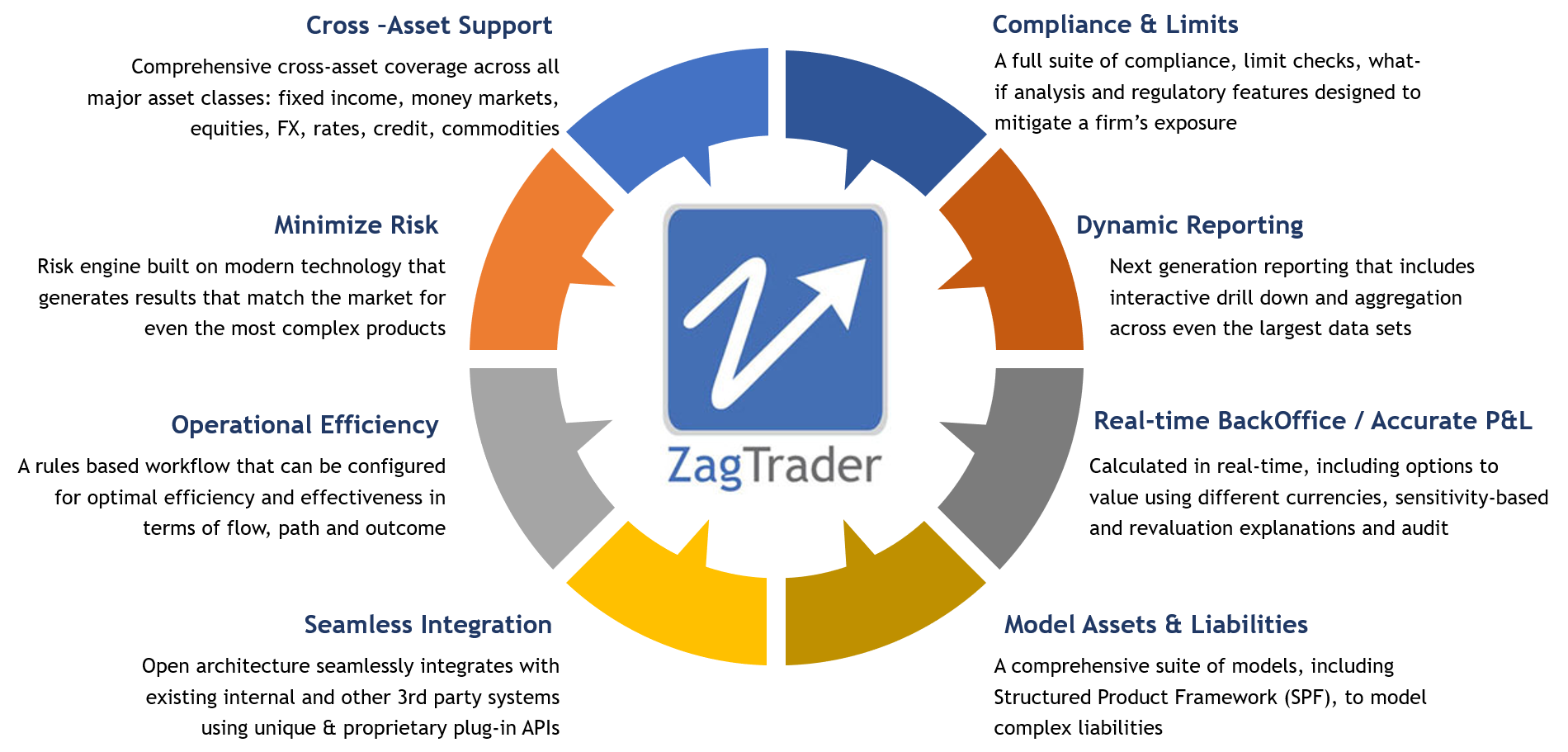 Delivering cross-asset trading, front-to-back operations, position management, accurate analytics, risk management, margining and regulatory reporting.
ZagTrader's integrated solution provides consistency between front, middle and back office functions.
Key Benefits
Customize and Parameterize the workflows.
Full privilege/permission system and close management of external asset managers.
Automation of clients onboarding & accounting.
KYC & Document Management.
Capabilities to route your orders to multiple destinations.
Risk Management: Monitor all investment operations and mitigating risks with ease.
Make informed decisions and stay on top of each investment strategy.
Mobilize your customers with white-labelled mobile and tablet apps to view and trade their portfolio in real time.
Fully white-labeled solution.