Family Offices are growing across the globe, becoming more common and facing greater demands in capturing and reporting all the investments and assets that are under their control.
The ZagTrader Family Office solution addresses this by allowing for data, positions, trades and all types of assets to be captured in and reported within a single platform that is Custodian, Counterparty and Asset class agnostic. The same technology that powers our Custody, Settlement & Clearing solutions is combined with our FIX/API bridge and an OMS to enable a Family Office Manager to capture all assets held in a single '360 view' while connecting to counterparties and brokers for any listed/tradeable assets.
Family Offices and Managers will have the ability to consolidate and monitor multiple Private Banking or Trading accounts, relationships and asset classes. With ready connectivity via EMSX, Bloomberg, TSOX, AUTEX, FIX, custom connectors or automated flat-file uploads, as well as integrated real time global data feeds and corporate actions (splits, dividends, etc.).
All-in-one complete Wealth Management
In depth visibility and control and management of your asset positions, allocation and performances
CRM & Client Dashboard
Accounting
Portfolio Modeling & Rebalancing
Transaction Banking
Dynamic Reporting
Order Management & Trade Processing
Fees
Alerts & Notifications
Custody
Risk Management
Private Banking
Wealth Management
Multi- Asset. Multi-Currency. Multi Lingual
ZagTrader Family Office & Private Banking platform – supports complex and changing legal entity structures and all asset classes. This includes a broad range of liquid and illiquid asset classes with asset class specific transaction types such as rentals contracts, general tenant management for REITS or real estate assets or general tenant management or private equity (PE) commitments as well as fund management for private equities.
The Platform supports Exchange Traded Funds (ETFs) ETDs like futures and options, charity, charitable foundations & Philanthropy incl. Datafeed from various sources such as ICE Data or Refinitiv (previously known as Thompson Reuters), FX- forwards and all likes of illiquid investments like direct holdings, loans, art, collectibles, boats/ jets and renewable energy and others as well as intricate organizational structures, complex investments, fluctuating markets and operational challenges are critical parameters when it comes to seamless wealth management of family offices. Spreadsheets and siloed IT solutions result in loss of time, creating inefficiencies and losses that could be irreversible.
ZagTrader Family Office & Private Banking platform gives family offices a single and comprehensive wealth management solution for their portfolio management, trading and investment accounting.
ZagTrader Family Office & Private Banking platform provides single and multi-family offices a comprehensive, flexible and completely integrated tool to streamline daily operations and reporting.
Powerful and reliable
Manage portfolio, trading and investment accounting with one solution.
Generate consolidated reports with investment calculations.
Streamline and automated investor accounting for accurate and seamless allocation of assets, gains and losses among multiple family members.
Model and rebalance portfolio across all account with real time NAVs.
Enhanced compliance capabilities to meet increasingly complex regulations.
Automated billing for fast and seamless revenue management.
Increase the competitiveness of the family office & private banking and raises the bar very high for competition to catch up.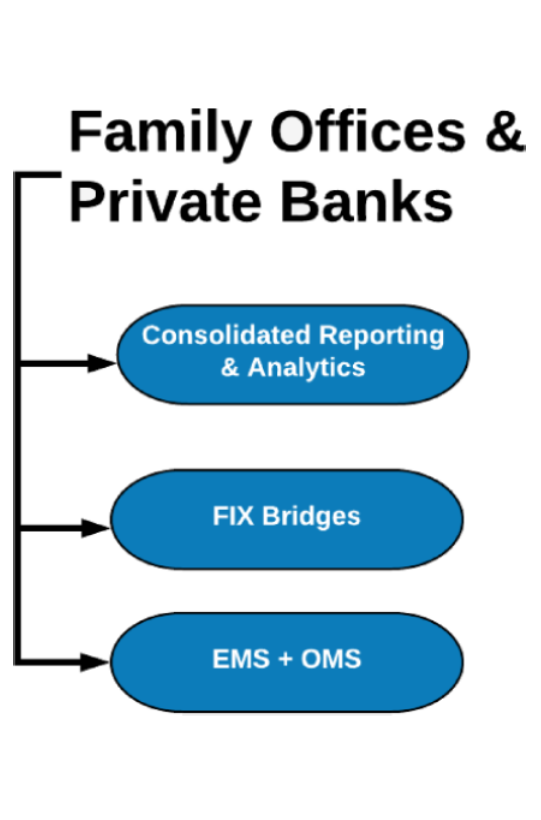 Enhance your customer experience with ZagTrader Web & Mobile application including dynamic reporting
Potential Growth & Multi-Layered Offering with
ZagTrader Family Offices & Private Banking Platform
Realtime assessment of net worth across multiple entities for single and multiple family offices.
Custom ETFs / ETDs / structured products.
Provides accounting for all events including income distributions, bill payments and other disbursement.
Aggregate data to provide them and their beneficiaries with a 360-degree global view.
Utilize direct market access to brokers across the globe.
Access to real time pricing and data feeds.
Client Relationships (e.g. business, family, etc.).
Customized preferences, fees and reporting.
Instant Global Trading of:

Stocks
Bonds and Sukuks
Treasury Bills
Art / Collectables
Tenant / Property Management

Derivatives
Currencies & FX
REITS / Real Estate Trusts
Charity & Philanthropy
Traditional & Digital Assets

Wealth Management and Advisory
Custody Services
Capitalize on every opportunity with software built
to help Investor Relations professionals maximize their relationships
Key Benefits Increasing Efficiency & Productivity
Family Office Managers
Benchmarking, rebalancing and scenario analysis tools
Automated order routing for the same strategy, account or beneficiary to multiple accounts and relationships
Integrated Order and Execution Management system with auto-rebalancing and broker routing algorithms
Benchmarking, rebalancing and scenario analysis tools
Decision support and portfolio management
360-degree global view of all accounts and positions across multiple levels
Trading + Global Coverage
Multi-Asset Trading, Multi-Market with support for multiple possible routing venues per market
Scalability to support high volumes of trades, compliance rules, accounts and account groups
Covers more than 200 Markets (Including US, Europe, Middle Eastern markets): With more than 200,000 symbols to choose from
Back Office and Back End Services
Support for multiple Custodians, Brokers and fee structures
Automated post trade processing with exceptions management with user defined settlement rules
Distribution of data to Portfolio Manager, Accounts and Family Office Clients
Automated Trade confirmations, settlement instructions, post trade matching, settlement and reconciliation
Efficient and easy to use UI, dashboard and settings
Automated reporting with custom reports in multiple file formats
Managing your employees: Full privilege/permission system with complete automation of workflows and processes
Reduced Risk and Manual Intervention: Automation of clients onboarding
KYC & Document Management
Capabilities to route your orders to multiple destinations
Risk Management & Algorithmic Trading
Mobilize your customers with white-labelled mobile and tablet apps to view and trade their portfolio in real time with a fully white-labeled solution
Expand business to millions of local customers and billions globally
Connectivity
Scalable and service driven architecture developed to provide reliable low-latency and high-throughput access across market conditions
Direct to venue FIX connectivity for orders and/or price feed; External data/price feed connectivity options
Connectivity to: AUTEX, EMSX, NYFIX, TSOX, Dark-pools, Prime brokers and any FIX compliant destination
World at your Finger Tips
World at your Finger Tips
Customers trade whenever and wherever
200+ Global Markets
Realtime Market Data Feeds. Buy / Sell in multiple market
Single Integrated Interface
All Departments connected under ONE System
Calculate Fees & Charges
Real time lien and calculation of fees and charges with complete audit and reporting
Connect Core Banking System in Realtime
Real time synchronization and access to core banking system
Scalable & Cost Effective
Introduce New Products Generate New streams of Income. Multiple solutions including managed, hosted, co-located and on-premise; options to provide the highest availability and load based scaling
Bleed-edge End-to-end Integrated Technology
Desktop, Tablet and Mobile applications with 2FA to enable traders the ability to constantly monitor and manage trading flow in a fully secure manner. FIX standardization and handlers to enable efficient and fast integration of new connections and improving Client on-boarding experience and supporting business demands
Collaborate to Innovate with ZagTrader