Brief About the System
Discover the power of ZagTrader's Execution Management System (EMS) and Order Management System (OMS), designed to elevate your trading experience. Our cutting-edge solution offers a seamless environment for managing, monitoring, and optimizing your trading flow with ease and precision.
Leverage the benefits of advanced real-time analytics, market microstructure analysis, and algorithmic execution capabilities to stay ahead in the fast-paced world of trading. The fully customizable user interface and high-throughput backend ensure that our EMS caters to the unique demands of your trading business, offering unmatched performance and flexibility.
Experience the difference with ZagTrader's Execution Management System – an all-encompassing platform for smarter and more efficient trading operations.
Advanced Risk Management and Pre-Trade Compliance
Embrace unparalleled risk management and pre-trade compliance with our state-of-the-art platform, tailored for both the Crypto and Digital Assets industry as well as conventional markets. ZagTrader's sophisticated Back-Office and OMS engine have been serving Banks, Brokers, Asset Managers, and Portfolio Managers worldwide for over a decade, offering top-notch pre-trade, post-trade, compliance, and reporting solutions.
Experience seamless integration, enhanced security, and regulatory compliance with our comprehensive platform. Whether you operate in the rapidly evolving Crypto and Digital Assets space or the traditional financial markets, ZagTrader's advanced risk management and pre-trade compliance capabilities are designed to meet your needs and keep you ahead of the competition.
Ultimate Flexibility
At ZagTrader, we recognize that each organization has its unique set of rules and requirements, making a one-size-fits-all solution insufficient for running operations and scaling efficiently. That's why we've developed an advanced customization engine, allowing organizations to tailor their experience by writing their own code for controlling, overriding, or complementing existing rules related to management decisions.
Our flexible platform supports a wide range of customization options, including but not limited to order placement, pre-trade assessment, post-trade allocations, and more. For instance, you can easily create complex rules for order acceptance, such as rejecting an order if a security lacks specific features or if a client's last name and the symbol meet certain conditions. With ZagTrader's custom plugin builder, implementing such rules is as simple as adding a single line of code.
Furthermore, our platform enables real-time cross-checking with external databases, such as blacklists, before accepting an order, and provides meaningful rejection reasons to users. These centralized rules can be applied (by choice) across all channels, including client-entered orders, employee-entered orders, and institutional orders received via FIX.
Experience the power of ultimate flexibility with ZagTrader, and unlock your organization's full potential.
Advanced Stop Management
Experience superior control over your trading strategies with ZagTrader's advanced conditional orders management system. Our platform enables you to set stop loss, take profit, buy stop, and sell stop orders, even when the destination does not natively support these order types.
ZagTrader's advanced stop management feature empowers you to protect your investments and secure profits with ease, ensuring a smooth and efficient trading experience. Enhance your trading capabilities and make more informed decisions with our innovative platform designed to cater to your unique needs.
Unlock the full potential of your trading strategies with ZagTrader's advanced stop management and take your trading performance to the next level.
Discover the many advantages of using ZagTrader's powerful platform, designed to enhance your trading experience and help you excel in the competitive financial landscape:
Global Multi-Asset Trading: Access diverse markets and asset classes, enabling you to diversify your portfolio and seize opportunities worldwide.
Comprehensive Data Feed: Connect to multiple price sources for up-to-date market information and make informed decisions based on reliable data.
Market Microstructure Analytics: Gain deep insights into market dynamics and trends with our powerful analytics tools, helping you identify profitable opportunities.
Algorithmic Trading & TCA-Driven Strategies: Implement advanced trading algorithms and transaction cost analysis (TCA) driven strategies to optimize your trading performance.
Pre- and Post-Trade Client Allocation: Streamline your client allocation process with our efficient pre- and post-trade allocation functionality.
Institutional Order Flow Tools: Leverage sophisticated tools and capabilities designed to accommodate the unique needs of institutional traders.
Smart Order Routing & Flow Management: Optimize your order execution with intelligent routing and effective flow management, ensuring the best possible results.
Versatile Trade Types: Execute various trade types, such as Iceberg, Block trading, and NAV trading, to adapt to market conditions and enhance your trading strategies.
Experience the difference with ZagTrader's feature-rich platform and unlock your trading potential.
Some of what is available!
Receive and send orders from/to: AUTEX, EMSX, NYFIX, TSOX, Dark-pools, Prime brokers and any FIX compliant destination.
Trade workflow with user limit, approval and authority matrices built in to the platform.
High and Low touch trading workflows with the ability to automate or semi-automate order management based on real-time market conditions and liquidity.
Integrate with settlement destinations such as Clearstream and Euroclear with SWIFT messaging.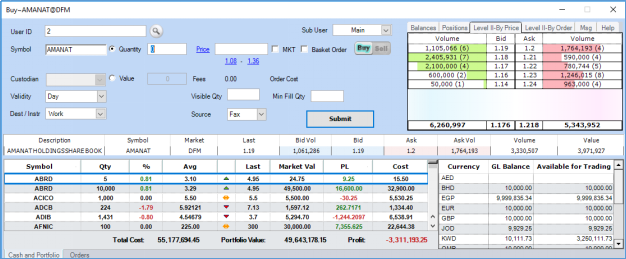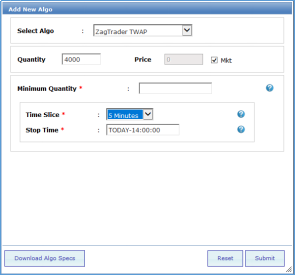 Parent-Child order management, aggregation across multiple accounts and intelligent execution to manage orders that require Pre-Trade account allocation.
Algorithmic Trading (create your own, use our built-in Algos, or external providers like ITG which are natively available in our system).
Create internal custom marketplaces with internal trading capabilities.
Fully integrated with ZagTrader Middle/Back office systems and enabled for integration with existing external systems on a SoD, EoD or real-time basis.
Desktop / Client side trading application with optimized resource utilization and high load capacity.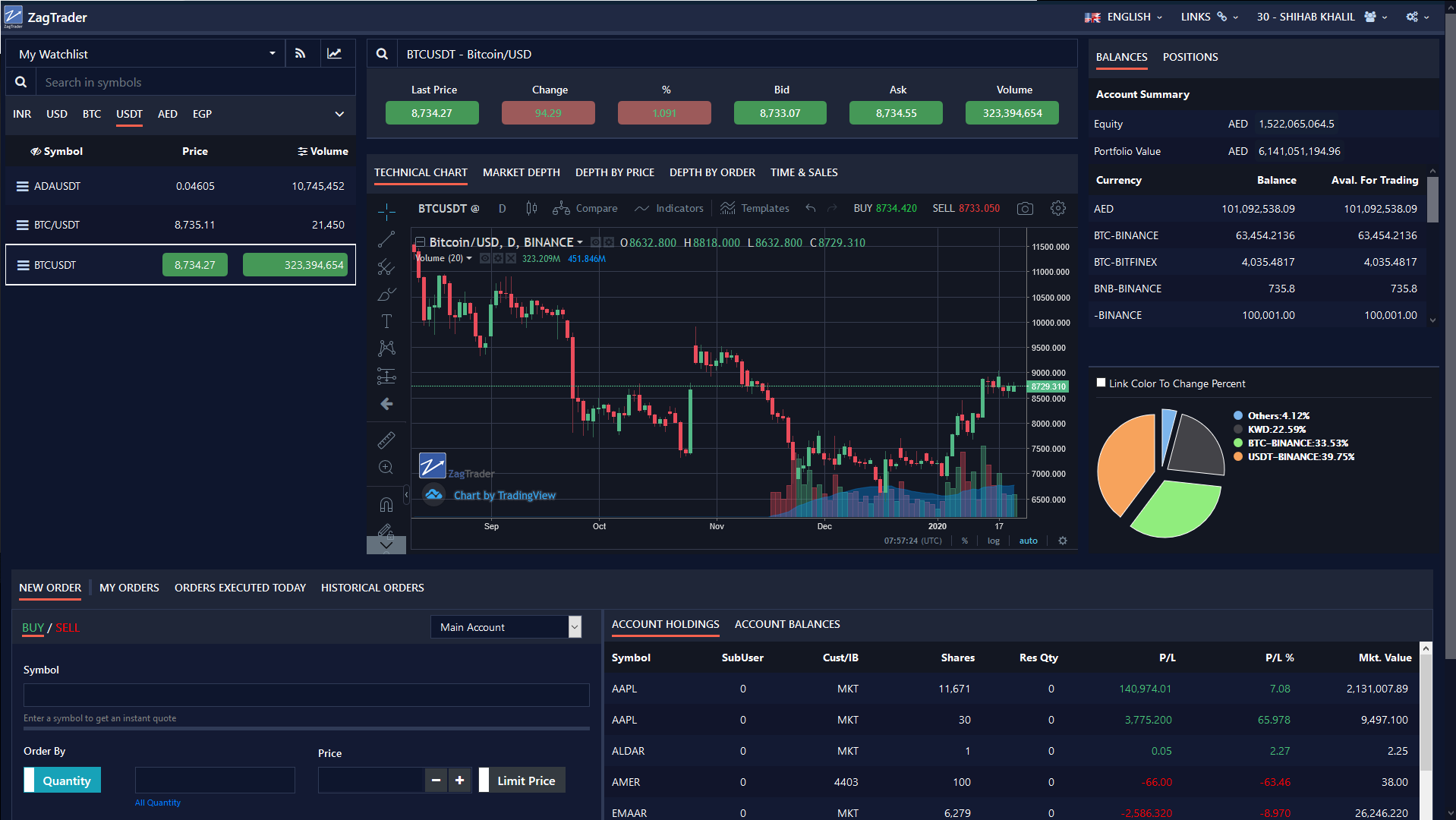 Dedicated FIX infrastructure to accommodate all channels of in-bound orders and routing to any FIX, Websocket or API compliant external destination.
Ability to process trades and orders on an STP basis to ZagTrader's own or external Backoffice systems in real-time throughout the trading session.
Built-in charting and analytics with custom indicators, views and layouts.
Multiple solutions including managed, hosted, co-located and on-premise.
Desktop, Tablet and Mobile applications with 2FA to enable traders the ability to constantly monitor and manage trading flow in a fully secure manner.